BI Developer
Doorlopende werving
Functie omschrijving
Imagine hundreds of users daily trusting the insights from our platform to make data-driven decisions throughout the IT domains of the Rabobank. This only happens because we are a trusted advisor, leading the way in reporting & analytics. As a BI Developer, you can make a difference by providing actionable insights on risk and security topics, having a strong drive to maximize value of the delivered insights and by mastering the full data logistics process on our platform making use of all data services Microsoft has to offer, both on-premise and in Azure.

Making a difference
Having a zealous passion for quality
Driving innovation and continuous improvement, building a leading technology stack
Maintaining an integrated view on our data logistics
Knowing the tools of the trade, and how to use them
Ambition to build full proficiency across the Microsoft BI and Power platform
Commitment for working in a DataOps environment, taking full responsibility across the (data) development and operations value chain. Operational tasks will be part of your workload.

Your technology stack consists of the full Microsoft Business Intelligence stack, using PowerBI as the front-end. Of course, you know to find your way on Windows-based systems. As we plan to migrate to Azure, experience with the Azure data services is an advantage.

With each other
Collaboration is at the heart of everything we do. Our Reporting & Analytics team brings talented people together to create actionable, reliable and timely insights. It is our ambition to drive secure banking, we enable our stakeholders to use fact driven insights to improve their strategic, tactical and operational decisions. With you as a Data Engineer, the team will consist of 16 diverse colleagues in a variety of roles, including:

Business Consultant: "Together with my colleagues we are able to guide our stakeholders to a more data informed way of working. This is a very exciting journey!"

Data engineer: "The most important impact I have right now, is my ability to translate all the information request into a structured reliable and timely data fundament. The cool thing is that by doing this we create our own innovation space in which we can experiment with all kinds of existing and new advanced data management concepts."
BI Developer.
Locatie: Utrecht.
Duur: 01-06-2021 - 31-12-2021 met optie op verlenging.
Engels: Toegestaan (allowed).
ZZP: Niet toegestaan (not allowed).
Functie eisen
Customer focus, networking, complex problem solving and collaborating are clearly essential for the role of BI Developer. In addition, it's important that you recognise everything in the checklist below:

You have 7+ years of relevant work experience as a BI Developer and/or Data Engineer
You have 3+ years of experience working with the Microsoft BI-suite, specifically SQL Server and SSAS Tabular Models.
You have 3+ years of experience developing PowerBI apps and dashboards.
You have knowledge of and experience with dimensional modelling
You are prepared to be challenged by our team and other stakeholders. In return, we expect you to do the same.

Growing a better world together: You'll already be aware that Rabobank is a financial services provider for 7.1 million customers in 40 countries. But did you know that we aim to contribute to real change with our 'Growing a better world together' mission? We do so in countless ways, such as:

Supporting local causes through our network of banking offices
Supporting Food & Agri businesses with our Data4Food program, through Rabo Frontier Ventures
Offering a sustainable future to people from underprivileged circumstances, through Rabo Foundation
Bedrijfsprofiel
Sharing would be appricatied! Paylaşırsanız sevinirim! Do you want to work for our client in The Netherlands? Hollandada ICT alaninda calismak?
Growing a better world together
You'll already be aware that our client is a financial services provider for 7.1 million customers in 40 countries. But did you know that we aim to contribute to real change with our 'Growing a better world together' mission? We do so in countless ways, such as:
A third of all the food we purchase is thrown away. Together with Nature & Environment, we're working to increase awareness among consumers of how to reduce food waste.
• As part of a project with Humanitas, we are helping people who are experiencing financial difficulties to get their household finances in order.
• Together with Vluchtelingenwerk Nederland (the Dutch Council for Refugees), we are helping 1,500 refugees find a suitable job.

Let's meet
Are you the person we're looking for? Are you ready to join Rabobank as an engineer and to make a difference to yourself, our customers and to society? We look forward to receiving your application for this vacancy in Utrecht. "
Locatie
Utrecht
Publicatiedatum
09.11.2021
Publicatie eindigt
12.12.2021
Contactpersoon
Contactpersoon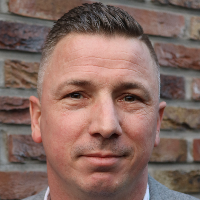 Maak vacature alert