Business Analyst
Nieuw
Functie omschrijving
Rabobank is a cooperative bank with over 8,5 million customers. Through large and small initiatives, the bank aims to make the world a little bit better. They support local enterprises and larger non-profit organisations and thus contribute to the welfare and prosperity of the community.
Imagine… You work in a challenging international environment, with the mission to enable the bank to provide relevant financial services to our clients so that we can 'Grow a Better World Together'. You work within multidisciplinary squads to realize the digital ambitions for Rabobank within the Tech4HR domain, while closely collaborating with business and IT stakeholders. As a Business Analyst and Adoption Specialist, you make an impact on the way our (internal) customers perceive the services we render at Rabobank, making it possible to provide a 9+ experience.
Background: Rabobank is in constant motion. Our public cloud strategy means that traditional IT functions change, so it is vital that we maximise our investment. As IT continues to change our daily work it's important that we ensure the workplace for our colleagues is maximised by making the most of our modern services & applications. We need modern business analyst and adoption techniques to ensure that colleagues have the tools required to change people's work.
Department: The Cloud PC team operates within the department Tech4HR – Base Workplace & Applications. We provide modern virtual workplace solutions for several development and production environments used by the bank employees across all regions. In total, this involves about 40,000 employees. 
The Team: The team has 3 squads that work according to Agile Scrum, with a 2-week sprint frequency and all scrum ceremonies performed in English. They have an end-to-end responsibility for products and services in their scope and work with other squads in the area to achieve the goals of the tribe.
The key goal for the squads is to ensure that cloud services in scope of the squads are adopted by the user base to maximise their productivity. To succeed in this responsibility, we require adoption specialists with business analyst experience who can act as change agents to understand the work of our colleagues and to enable them to adopt the new techniques.
Job summary: We are looking for an adoption specialist with business analyst experience. Your main responsibilities are:
• Perform business intakes with customers (internally) to understand their needs and requirements in order to determine how to service them.
• Translate complex business requirements and processes into employee journeys and user stories.
• Determine the best product, customer fit with the Product Owner(s).
• Challenge the customer to adopt modern ways of working and challenge DevOps squads to create even better products.
• Participate in strategic initiatives and make suggestions to
• Coach and coordinate activities with other adoption specialists that you work with.
• Use creative techniques to tell your story and to achieve your goal.
• Plan, schedule and implement large scale strategic migrations.
• Support customers in order to discover the true business value.
Functie eisen
We look for somebody that is:
• Not scared of taking the stage or to go "out there" to showcase our products.
• Customer focussed, accurate, result driven, pro-active, independent, a true team player who is also aware of organisation sensitivity.
• An expert in complex problem solving and storytelling.
• Capable of handling time pressure and deadlines.
• Able to say "no" if the requirements do not fit the given boundaries.
• Good in (English) communication in both speech and text.
• Able to operate with business and IT challenges
The Must-Haves:
• Change Management and / or Business analyst experience.
• Experience of adoption and functional management techniques.
• Proven experience in past projects and large enterprises.
Nice-to-Haves:
• Experience working agile
• Knowledge of Azure Devops or end user computing
Bedrijfsprofiel
Our client is a financial service provider for 7.1 million customers in 40 countries, you know already. Our Red Team works for all the locations of our client in all these countries.
Do you also know that we are working together on a better world? We do this in 101 ways like for example our knowledge and experience of Ethical Hacking and Red Teaming sharing with other organizations and "hackers". That belongs to us at ' growing a better world together '
Arbeidsvoorwaarden
Be the best version of yourself? We are happy to help you by focussing your development and investing in an environment in which you continue to learn. We give you the space to innovate and undertake. For example, we offer you plenty of growth opportunities and help you surpass your expectations and do the right things exceptionally well, so that you can grow as a professional.
On top of that you can also count on us (based on a 36-hour working week):

An Employee Benefit Budget (10% of your monthly income). How you bet this budget is up to you. Consider buying extra holiday days or an additional deposit in your pension;

Relatively high flexibility in working hours and location independent work, depending on the planning in the team;

100% reimbursement of commuting if you travel with ov! Anyway with car or motorbike?
Then choose a commuting fee;
A pension scheme that you only contribute 5% to.
Let's get acquainted.
Are you him/her? The new colleague who wants to strengthen our clientas a Red Team Operator and to make the difference for yourself, our customers and society? We would like to receive your application on this vacancy in Utrecht.

Useful to know:

Even if you do not meet the profile of 100%, but you think the role can be perfectly fulfilled, we ask you to apply, we invest in your growth and development.
Responses are handled in accordance with vacancy management.
Felix de Bruin IT Recruiter is happy to answer questions about the application process via mail or applying to the according link.
Screening is part of the application process. We test on the basis of the screening procedures that apply within our client or if new employees are sufficiently reliable to carry out work at our client.
For this vacancy, an individual assessment and a test of your skills can be part of the application process.
Everyone is different, and precisely the differences in people help us to be an even better bank. That's why we are curious about who you.
Locatie
Utrecht
Publicatiedatum
14.09.2022
Publicatie eindigt
08.10.2022
Contactpersoon
Contactpersoon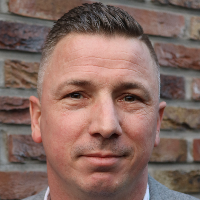 Maak vacature alert