Business Analyst
Doorlopende werving
Functie omschrijving
Over the past years various regulations have been incorporated into the transaction application landscape. As business analyst you make the difference by unravelling the complexity of ensuring transparency and fairness in the market which then are used to further improve the technical solutions within Rabobank to execute the mandatory transaction reporting to regulators across the world.
You and your job: We are looking for a business analyst with experience in the area of transaction reporting. Someone who has worked closely on various regimes and regulations over the past years – or an individual that is able to show her/his chameleon skills in learning this important regulatory area very swiftly.
Practical Examples:
Together with our I&C squad we execute business (and information) analysis for changes to the Regulatory Reporting Solution (RRS)

The business challenge we solved was the mandatory reporting towards international regulators on trades for our clients for some 20+ different regulatory regimes throughout the world
Top responsibility: Our team is focused on improving and maintaining the centralized transaction reporting applications used by Rabobank. These applications provide the organization the abilities to execute all the mandatory required reporting towards the different regulators and central banks for all trades done within Rabobank – be it real-time or batch reporting. Main attention points for our service are around the correctness, completeness and timeliness of our delivery to the mentioned parties
Together we achieve more than alone!
We believe in the power of difference. Bringing together people's differences is what makes us an even better bank. So we are very curious about what you can bring to our regulatory reporting team.
'Being inquisitive and enquiring to grow as a team and work towards creating the perfect reporting system. After another day saving the world of mistakes in transaction reporting we like to do drinks together and connect on personal level. Perfectly balanced, as everybody thinks it should be.'
Matisse Heidekamp, Business Analyst.
Around 100 people work in the Wholesale & Rural Tech Transaction Reporting team in a DevOps way of working from the Netherlands, United Kingdom and India. They join forces in several squads to create solutions for our stakeholders to accommodate the various information needs of the regulators and central banks. Engaged collaboration is the way we like to work; as 1 effective team at Rabobank. Talking of Rabobank: We are a Dutch bank that operates in 38 countries for over 9,500,000 customers. Together with these customers, our members and partners we stand side by side to create a world in which everyone has access to enough healthy food. In the Netherlands we work to create a country in which people are happy with how they live, work and do business.
Functie eisen
You and your talent: Customer focus, eye for detail and embracing change are clearly essential for this role of business analyst. An intrinsic drive to personal development in new specialties is key to success inside this team. Being flexible and taking ownership are basics to create the right mind-set necessary for this function. In addition, it is important that you recognize everything on the checklist below:
Bachelor degree or higher or proof of being able to work/think on this level;
Minimum of 7+ years working experience in general business analysis;
Minimum of 3 years of experience in implementing complex systems in large corporates
Broad exposure to mainstream regulatory regimes and possible tooling;
Experience in the financial sector and specifically within wholesale banking.
Experience with working in a Scrum/Agile environment (preferably PSM certified)
Good command (on professional level) of the English language – spoken and written
Contact with customers and improving (business) processes together is second nature to you.
Bedrijfsprofiel
Sharing would be appricatied! Paylaşırsanız sevinirim! Do you want to work for our client in The Netherlands? Hollandada ICT alaninda calismak?
Let's meet! Are you the person we're looking for? Are you our new colleague who will strengthen Rabobank as a Security Test Engineer and thus make the difference for yourself, our customers and society?
If you are, we are happy to receive your application including your motivation.
Growing a better world together: You'll already be aware that Rabobank is a financial services provider for 7.1 million customers in 40 countries. But did you know that we aim to contribute to real change with our 'Growing a better world together' mission? We do so in countless ways, such as:
A third of all the food we purchase is thrown away. Together with Nature & Environment, we're working to increase awareness among consumers of how to reduce food waste.

As part of a project with Humanitas, we are helping people who are experiencing financial difficulties to get their household finances in order.

Together with 'Vluchtelingenwerk Nederland' (the Dutch Council for Refugees), we are helping 1,500 refugees find a suitable job.
Interested? Do you want to become the ideal version of yourself? We would love to help you fuel and invest in your career and ambitions in an environment where you keep learning every day. We give you the space to innovate and initiate. In this way, we offer you numerous opportunities to grow and help you exceed your expectations, to do the right thing exceptionally well, and to therefore grow as a professional.
Our client is a financial service provider for 7.1 million customers in 40 countries, you know already. Our Red Team works for all the locations of our client in all these countries.
Do you also know that we are working together on a better world? We do this in 101 ways like for example our knowledge and experience of Ethical Hacking and Red Teaming sharing with other organizations and "hackers". That belongs to us at ' growing a better world together '
Arbeidsvoorwaarden
Do you want this too?
Be the best version of yourself? We are happy to help you by focussing your development and investing in an environment in which you continue to learn. We give you the space to innovate and undertake. For example, we offer you plenty of growth opportunities and help you surpass your expectations and do the right things exceptionally well, so that you can grow as a professional.
On top of that you can also count on us (based on a 36-hour working week):

An Employee Benefit Budget (10% of your monthly income). How you bet this budget is up to you. Consider buying extra holiday days or an additional deposit in your pension;

Relatively high flexibility in working hours and location independent work, depending on the planning in the team;

100% reimbursement of commuting if you travel with ov! Anyway with car or motorbike?
Then choose a commuting fee;
A pension scheme that you only contribute 5% to.
Let's get acquainted.
Are you him/her? The new colleague who wants to strengthen our clientas and to make the difference for yourself, our customers and society? We would like to receive your application on this vacancy.

Useful to know: Even if you do not meet the profile of 100%, but you think the role can be perfectly fulfilled, we ask you to apply, we invest in your growth and development.
Responses are handled in accordance with vacancy management.
Felix de Bruin IT Recruiter is happy to answer questions about the application process via mail or applying to the according link.
Screening is part of the application process. We test on the basis of the screening procedures that apply within our client or if new employees are sufficiently reliable to carry out work at our client.
For this vacancy, an individual assessment and a test of your skills can be part of the application process.
Everyone is different, and precisely the differences in people help us to be an even better bank. That's why we are curious about who you.
Locatie
Utrecht
Publicatiedatum
21.09.2022
Publicatie eindigt
16.10.2022
Contactpersoon
Contactpersoon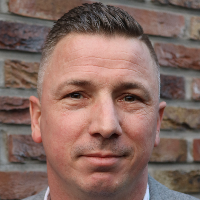 Maak vacature alert