Business Analyst Cyber Security
Doorlopende werving
Functie omschrijving
Leveraging your passion for cyber security in supporting the ambitions. On a daily base you help to protect our network and systems against cyber threats and create a trusted environment on our network infrastructure and in the cloud. Being in control on these subjects creates a smile on your face.

As an Cyber Security Business Analyst you can make a difference by ensuring the client security business requirement are translated into (software) solutions which will ensure a secure, well-maintained and up to date Cyber Security environment. This means, that in order to translate business needs into feasible cyber security measures you need be aware and involved in the developments of Cyber Security in both the Cloud and our on premise solutions.

Understanding the goals and needs of the cyber security business as no other. You are able to understand the question behind the question and translate that into (data and process) requirements.

Translating the requirements into solutions using the total eco system of our Security Information & Event Management systems. You understand the concepts and solutions forming Security Monitoring Environment.

Being the (wo)man in the middle between our business / application owners and our users (Security Operations) of security alerts and between business and our DevOps-teams. You are able to connect and communicate with a variety of stakeholders.

By promoting the Cyber Defence Center and its responsibilities and capabilities in the organization.

Agile Scrum and DevOps mindset and experience.

Role: As a Cyber Security business analyst you will be part of the 'ready' team within the Security Engineering department. Security Engineering is empowering the Cyber Defence Center to maximize its the value to the client in detecting and responding to (external) threats and vulnerabilities. ​

​Every day the 30 colleagues work on innovative solutions to safeguard the client and protect the organisation against (external) Advanced Persistent Threats. The members of the Security Engineering department continuously improve themselves and their teams. They have an open culture and an urge to getting things done. Collaboration is at the heart of everything we do. All teams you interact with, both within the Security Engineering department and outside the department work in scrum.

Business Analyst Cyber Security

Location: Utrecht

Start: 01-01-2022

Hours: 36 per week

Functie eisen
Skills/Requirements:
Service Orientation attitude, ability to collaborate people and teams, good communicative skillset, ability to develop and maintain good working relationships, agility and problem solving skills are clearly essential for the position of Security DevOps Engineer.
You are a driven professional with a wide variety of knowledge and experience in IT security in general and Cyber Security in particular.
You're always up-to-date with the newest facts in cloud or on premises cyber security technology.
You have strong analytic capabilities and a passion for IT security.
You are critical and you are not easily satisfied.
You can think like a hacker, with the awareness of sensibilities of a multinational organization and the capability to convince people about the sincerity and severity of incidents.
The nature of our work requires a high degree of flexibility of your efforts. You are able to set up excellent reports for different target groups.
Targeted communication in writing and oral is not a problem for you.
You are a team player and you know how to engage your colleagues in achieving the team goals
A minimum of Master/Bachelor diploma, and thinking and working level;
A minimum of 5 years of experience in Business Analysis (must have)
Knowledge of and experience in business analysis in cyber security/security
Flexible and constructively critical attitude, strong analytic mindset;
Experienced in stakeholder management;
If you want to apply for this role, we will need the following information from you:
Most up to date cv, in the English language, in a Word format ( PDF formats are not accepted by our clients )
Solid motivation, focused on the application / role
Good description of all desired requirements, wishes and competences. All highlighted points, specified in the application, must be described separately and clearly ( Number of years of work experience, with which organization and in which role these have been carried out etc. )
At least 1 recent reference, which can be verified!
Bedrijfsprofiel
Sharing would be appricatied! Paylaşırsanız sevinirim! Do you want to work for our client in The Netherlands? Hollandada ICT alaninda calismak?
Our client is a financial service provider for 7.1 million customers in 40 countries, you know already. Our Red Team works for all the locations of our client in all these countries.
Do you also know that we are working together on a better world? We do this in 101 ways like for example our knowledge and experience of Ethical Hacking and Red Teaming sharing with other organizations and "hackers". That belongs to us at ' growing a better world together '
Locatie
Utrecht
Publicatiedatum
23.11.2021
Publicatie eindigt
26.12.2021
Contactpersoon
Contactpersoon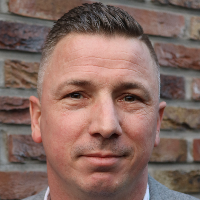 Maak vacature alert