Crypto Consultant
Doorlopende werving
Functie omschrijving
Introduction; Do you have a vision on how to improve the development experience for our engineers, so that they can efficiently develop features for our customers?
As (Senior) Crypto Consultant for client's Tech4Dev, you have an opportunity to design the technology that provides the digital experience of 7 million customers through our channels and provide a developer platform for over 3.000 developers within the client.
Within the area Tech4Dev, our squads work on tools and supporting security and adherence processes that help over 400 teams to build our modern digital experience, while ensuring the highest standards for quality, performance, and security.
You will support and closely work together with Crypto Security teams to make the bank even more secure. In this role you work closely together with the product owner, scrum master, business analyst and solution architect. Next to that alignment with other department/squads regarding crypto security processes and security by design, is a very important part of your role. You need to like the challenge of manoeuvring in a complex environment.
Together with the team you ensure a vision about the current and future solutions we provide. You leverage your process experience, your understanding of the business drivers and knowledge of current and emerging technology and its practical application.

You and your job: Connecting the right information and solution to the right place in your team and area is what you strive for. Bridging the gap between what is required to serve engineers within our client as good as possible.
Facts & Figures
• 36 hours per week
• Around 5.000 engineers served
• 43,822 colleagues around the world
Responsibilities
• The senior crypto consultant is a T-shaped professional with a broad experience in IT/Cyber Security and a specialization in cryptography. His or her knowledge is utilized in combination with consultancy skills and help other teams further on the topics op cyber security and cryptography
• Also a specialist in software (crypto) integrations and supporting application builders/engineers/developers (DevOps) on all services. In this role it is about (IT) technical & development skills. Main focus is on cloud services and also help other teams to become more mature in cryptographic development.
Crypto Consultant.
Duur: Asap minimal a year with extension
Engels: Eglish is mandatory.
Locatie: Utrecht.
ZZP: Niet toegestaan (not allowed).
Note: Crypto services knowledges is a must
Functie eisen
• Higher education (HBO) IT (security), mathematics or similar technical study
• Master degree in IT (security), mathematics or similar technical study
• 10+ years of working experience (HBO) or 5+ years of working experience in a IT/Cyber Security or similar role
• Cloud Security expertise (AWS and Azure)
• Cloud infrastructure deployment (CI/CD, operational)
• Coding & scripting skills (for example Java, C#, REST API, bash, PowerShell, XML, JSON)
• Cryptographic integration tooling/interfaces (incl. PKCS#11, OpenSSL, API etc.)
Soft-skills
• Analytical
• Conceptual thinking
• Influencing others
• Presenting (incl. memo writing)
• Being an advisor
• Inventive/creative
• Technical writing & drawing
• Problem-solving
• Understanding (client) developers & engineers
Training & certification
• Extensive advisory skills
• AWS training
• Microsoft AZ certification
• CCISP, CISSM, CompTIA or similar cybersecurity certification
Bedrijfsprofiel
Sharing would be appricatied! Paylaşırsanız sevinirim! Do you want to work for our client in The Netherlands? Hollandada ICT alaninda calismak?
Let's meet! Are you the person we're looking for? A
If you are, we are happy to receive your application including your motivation.
Growing a better world together: You'll already be aware that our client is a financial services provider for 7.1 million customers in 40 countries. But did you know that we aim to contribute to real change with our 'Growing a better world together' mission? We do so in countless ways, such as:
A third of all the food we purchase is thrown away. Together with Nature & Environment, we're working to increase awareness among consumers of how to reduce food waste.
As part of a project with Humanitas, we are helping people who are experiencing financial difficulties to get their household finances in order.
Together with 'Vluchtelingenwerk Nederland' (the Dutch Council for Refugees), we are helping 1,500 refugees find a suitable job.
Interested? Do you want to become the ideal version of yourself? We would love to help you fuel and invest in your career and ambitions in an environment where you keep learning every day. We give you the space to innovate and initiate. In this way, we offer you numerous opportunities to grow and help you exceed your expectations, to do the right thing exceptionally well, and to therefore grow as a professional.
Our client is a financial service provider for 7.1 million customers in 40 countries, you know already. Our Red Team works for all the locations of our client in all these countries.
Do you also know that we are working together on a better world? We do this in 101 ways like for example our knowledge and experience of Ethical Hacking and Red Teaming sharing with other organizations and "hackers". That belongs to us at ' growing a better world together '
Arbeidsvoorwaarden
Working conditions This job role is split between operational (run) and project (build) work (75%/25%). Some changes are planned outside business hours to minimize business impact. This job vacancy is for the location Utrecht (NL).
Do you want this too?
Be the best version of yourself? We are happy to help you by focussing your development and investing in an environment in which you continue to learn. We give you the space to innovate and undertake. For example, we offer you plenty of growth opportunities and help you surpass your expectations and do the right things exceptionally well, so that you can grow as a professional.
On top of that you can also count on us (based on a 36-hour working week):
An Employee Benefit Budget (10% of your monthly income). How you bet this budget is up to you. Consider buying extra holiday days or an additional deposit in your pension;
Relatively high flexibility in working hours and location independent work, depending on the planning in the team;
100% reimbursement of commuting if you travel with ov! Anyway with car or motorbike?
Then choose a commuting fee;
A pension scheme that you only contribute 5% to.
Let's get acquainted.
Are you him/her? The new colleague who wants to strengthen our clientas and to make the difference for yourself, our customers and society? We would like to receive your application on this vacancy.

Useful to know: Even if you do not meet the profile of 100%, but you think the role can be perfectly fulfilled, we ask you to apply, we invest in your growth and development.
Responses are handled in accordance with vacancy management.
Felix de Bruin IT Recruiter is happy to answer questions about the application process via mail or applying to the according link.
Screening is part of the application process. We test on the basis of the screening procedures that apply within our client or if new employees are sufficiently reliable to carry out work at our client.
For this vacancy, an individual assessment and a test of your skills can be part of the application process.
Everyone is different, and precisely the differences in people help us to be an even better bank. That's why we are curious about who you.
Locatie
Utrecht
Publicatiedatum
07.11.2023
Publicatie eindigt
03.12.2023
Contactpersoon
Contactpersoon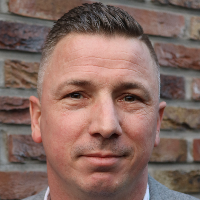 Maak vacature alert