Crypto - Security Engineer
Doorlopende werving
Functie omschrijving
Picture yourself rushing into a shop at the central station. As you proceed to check out, you swipe your bank card at the terminal, only to hear a beep indicating "insufficient funds." Without wasting a moment, you swiftly reach for your phone, log in to our client's banking app, and transfer money from your savings account to your payment account. With the funds now available, you confidently swipe your card again, successfully completing the transaction. All of this is made possible through the application of secure techniques, such as cryptography. And guess what? You play a pivotal role in making it happen. As a crypto engineer, you have the power to ensure the utmost security for the bank.
Making an Impact:
Taking charge of the day-to-day management of Hardware Security Modules (HSMs), including tooling, network administration, and monitoring. Actively participating in project activities, such as life cycle management of HSMs and our cryptographic applications. Providing support for the Key Management lifecycle, particularly for critical applications like PKI and payment systems. Contributing to the ongoing improvement and evolution of the department, embracing an Agile way-of-working. Shouldering the responsibility of second-line support for Keys and Key Management, guaranteeing the availability, timeliness, and performance of our services. You excel at managing user expectations. Demonstrating expertise in ITIL processes, compliance requirements, crisis management protocols, and thorough analysis and monitoring. You are also part of the 24/7 standby team.
Collaboration at the Core: Collaboration lies at the heart of our operations. Our Crypto team unites talented individuals like yourself to safeguard our client's banking security. With your addition as an engineer, the team will consist of eight highly skilled colleagues.
Functie eisen
Your technology stack should include experience or knowledge of both payment and general-purpose HSMs (Hardware Security Modules). You should also have a strong understanding of various cryptography concepts, including but not limited to PKI (Public Key Infrastructure). Preferably, you should possess knowledge of payment processes or standards. Additionally, you should be capable of assisting colleagues with integration problems in programming languages such as Java and .NET or be willing to learn how to provide support in such cases. In your day-to-day operations, you will work with operating systems like Windows and Unix, utilizing script languages such as Bash, Batch, and PowerShell.
Offered salary: The annual gross salary will be approximately €72,500.
Requirements:
Master's or Bachelor's degree

Proven Security and Risk Awareness, demonstrated through certifications such as CISSP, CISA, or equivalent

Minimum of 5 years' working experience in a technical IT function

Minimum of 3 years' experience with Agile/Scrum methodologies

Minimum of 3 years' experience with cryptography

Experience with Agile methodology

Proven knowledge of AWS, Cloud, Azure, HSM, and PKI

At least 3 years' experience in the banking/financial industry

Competences: Customer focus, analytical skills, result-driven approach, and cooperation are essential for the role of a crypto engineer

Excellent verbal and written communication skills in English
Nice to have:
Knowledge of ITIL processes, compliance requirements, workflow in case of emergencies, and analysis & monitoring

Proven Security and Risk Awareness, demonstrated through certifications such as CISSP, CISA, or equivalent

5+ years of working experience in a technical IT function

Experience with Scrum methodology

Excellent knowledge of the English language
Interested? Do you want to become the best version of yourself? We are committed to helping you achieve this by focusing on your growth and development, investing in an environment that facilitates continuous learning. We provide you with the space to innovate and take the lead. Through these opportunities, we aim to help you exceed your expectations, excel in your role, and grow professionally.
To proceed with your application, please provide the following information:
Most recent CV, in either English or Dutch, using a Word template

A compelling motivation letter that highlights your expertise in Crypto & Security

Availability details

Salary expectations
Bedrijfsprofiel
Sharing would be appreciated! Paylaşırsanız sevinirim! Would you like to work for our client in the Netherlands? Hollanda'da ICT alanında çalışmak ister misiniz?
Let's meet! Are you the person we are searching for? Will you be our new colleague who will strengthen our client's team and make a difference for yourself, our customers, and society?
If you are, we would be delighted to receive your application, including your motivation.
Growing a better world together: You are already aware that our client is a financial services provider for 7.1 million customers in 40 countries. However, did you know that we strive to contribute to real change through our "Growing a better world together" mission? We do so in numerous ways, including:
Working with Nature & Environment to raise consumer awareness about reducing food waste, as one-third of all purchased food is discarded.

Assisting individuals facing financial difficulties in organizing their household finances through a project with Humanitas.

Collaborating with "Vluchtelingenwerk Nederland" (the Dutch Council for Refugees) to help 1,500 refugees find suitable employment.
Interested? Do you want to become the best version of yourself? We would love to support and invest in your career and ambitions in an environment where you can continuously learn. We provide you with the freedom to innovate and take the initiative. In this way, we offer numerous opportunities for growth, helping you exceed your expectations and excel as a professional.
Did you also know that we are working together towards a better world? We do so in 101 ways, such as sharing our knowledge and experience of Ethical Hacking and Red Teaming with other organizations and "hackers." This commitment is an integral part of our mission to "grow a better world together."
Arbeidsvoorwaarden
Working conditions: This job role offers a balanced split between operational (run) and project (build) work, with a distribution of 75% operational and 25% project-related tasks. To minimize the impact on business operations, some changes may be scheduled outside of regular business hours. The location for this job vacancy is in Utrecht, the Netherlands.
Do you want this too?
Do you aspire to be the best version of yourself? We are delighted to support your development and invest in an environment where continuous learning is encouraged. We provide you with the freedom to innovate and take initiative. By offering numerous growth opportunities, we help you exceed your own expectations and excel in your work, enabling you to grow both personally and professionally.
Moreover, you can expect the following benefits based on a 36-hour working week:
An Employee Benefit Budget equivalent to 10% of your monthly income, which you can use according to your preferences. This budget allows you to purchase additional holiday days or make additional contributions to your pension.

Flexible working hours and the possibility of location-independent work, depending on the team's planning.

100% reimbursement of commuting costs if you travel using public transportation. If you commute by car or motorcycle, you can opt for a commuting allowance.

A pension scheme with a contribution rate of only 5% from your side.
Let's get to know each other.
Are you the person we are looking for? The new colleague who wants to strengthen our client's team and make a difference for yourself, our customers, and society? We would love to receive your application for this vacancy.
Please note: Even if you don't meet all the criteria mentioned in the profile, but you believe you can fulfill the role effectively, we encourage you to apply. We invest in your growth and development.
Responses to applications are handled in accordance with our vacancy management process.
If you have any questions about the application process, Felix de Bruin, IT Recruiter, will be happy to assist you via email or through the provided application link.
Screening is a standard part of the application process. We assess candidates based on the screening procedures followed by our client to ensure that new employees are reliable and suitable for their roles.
For this vacancy, an individual assessment and skills testing may be included as part of the application process.
We believe that everyone is unique, and it is precisely these differences that help us become an even better bank. That's why we are curious to know more about you.
Locatie
Utrecht
Publicatiedatum
07.11.2023
Publicatie eindigt
10.12.2023
Contactpersoon
Contactpersoon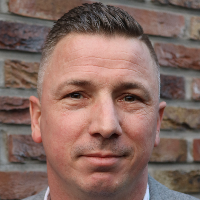 Maak vacature alert