Data Scientist
Nieuw
Functie omschrijving
We are very excited to announce a new position in our Data Science-team. Have you always wanted to be part of a team that helps Rabobank and its clients to keep ahead of market developments in a rapidly changing world? Than this is the place for you!

Team Cylon: You will be part of team Cylon. A newly formed team that is setting the pace for AI developments in the Distribution Domain of the Rabobank. Together with other data scientists, architect, data engineer and data translator you will be tasked with setting up new use cases that serve the bank and/or our customers. We support both IT-processes of other teams AND develop new products that improve the life of our customers.
The job: As a (Senior) Data Scientist you will work on one or two use cases at the same time. You have daily contact with the rest of the team and help each other improve and accelerate on our use cases. You can successfully and, if necessary, independently run a data science use case.
Data Scientist.
Locatie: Utrecht
Functie eisen
Candidate Profile
• You enjoy collaborating with other data scientists and helping them improve.
• Several years of work experience in the data science field.
• You have a strong (educational) background in mathematics/statistics.
• You are proactive and can take ownership of the entire duration of development; from ideation to realisation.
Required Skills
• You have excellent oral and written communication skills at technical and business level
• Fluency in written and spoken English.
• Experience with both supervised and unsupervised ML algorithms, including Neural Networks (experience with PyTorch is preferable, but no must).
• We mostly work with text and numerical data.
• You have experience building models in a solid software engineering/DevOps-way. Having built pipelines to production (full-stack) is a big plus.
• You have strong Python skills and have preferable worked with AzureML or other cloud-solutions before. Pyspark experience is a plus.
Bedrijfsprofiel
Sharing would be appricatied! Paylaşırsanız sevinirim! Do you want to work for our client in The Netherlands? Hollandada ICT alaninda calismak?
Let's meet! Are you the person we're looking for? Are you our new colleague who will strengthen Rabobank as a Security Test Engineer and thus make the difference for yourself, our customers and society?
If you are, we are happy to receive your application including your motivation.
Growing a better world together: You'll already be aware that Rabobank is a financial services provider for 7.1 million customers in 40 countries. But did you know that we aim to contribute to real change with our 'Growing a better world together' mission? We do so in countless ways, such as:
A third of all the food we purchase is thrown away. Together with Nature & Environment, we're working to increase awareness among consumers of how to reduce food waste.

As part of a project with Humanitas, we are helping people who are experiencing financial difficulties to get their household finances in order.

Together with 'Vluchtelingenwerk Nederland' (the Dutch Council for Refugees), we are helping 1,500 refugees find a suitable job.
Interested? Do you want to become the ideal version of yourself? We would love to help you fuel and invest in your career and ambitions in an environment where you keep learning every day. We give you the space to innovate and initiate. In this way, we offer you numerous opportunities to grow and help you exceed your expectations, to do the right thing exceptionally well, and to therefore grow as a professional.
Our client is a financial service provider for 7.1 million customers in 40 countries, you know already. Our Red Team works for all the locations of our client in all these countries.
Do you also know that we are working together on a better world? We do this in 101 ways like for example our knowledge and experience of Ethical Hacking and Red Teaming sharing with other organizations and "hackers". That belongs to us at ' growing a better world together '
Arbeidsvoorwaarden
Do you want this too?
Be the best version of yourself? We are happy to help you by focussing your development and investing in an environment in which you continue to learn. We give you the space to innovate and undertake. For example, we offer you plenty of growth opportunities and help you surpass your expectations and do the right things exceptionally well, so that you can grow as a professional.
On top of that you can also count on us (based on a 36-hour working week):

An Employee Benefit Budget (10% of your monthly income). How you bet this budget is up to you. Consider buying extra holiday days or an additional deposit in your pension;

Relatively high flexibility in working hours and location independent work, depending on the planning in the team;

100% reimbursement of commuting if you travel with ov! Anyway with car or motorbike?
Then choose a commuting fee;
A pension scheme that you only contribute 5% to.
Let's get acquainted.
Are you him/her? The new colleague who wants to strengthen our clientas and to make the difference for yourself, our customers and society? We would like to receive your application on this vacancy.

Useful to know: Even if you do not meet the profile of 100%, but you think the role can be perfectly fulfilled, we ask you to apply, we invest in your growth and development.
Responses are handled in accordance with vacancy management.
Felix de Bruin IT Recruiter is happy to answer questions about the application process via mail or applying to the according link.
Screening is part of the application process. We test on the basis of the screening procedures that apply within our client or if new employees are sufficiently reliable to carry out work at our client.
For this vacancy, an individual assessment and a test of your skills can be part of the application process.
Everyone is different, and precisely the differences in people help us to be an even better bank. That's why we are curious about who you.
Locatie
Utrecht
Publicatiedatum
06.07.2022
Publicatie eindigt
21.08.2022
Contactpersoon
Contactpersoon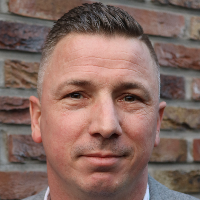 Maak vacature alert