DBA Operations Engineer
Spoed
Functie omschrijving
Our section: The Data & Reporting department within the Lending & Insurance domain is responsible for the data logistics chain within the Financing domain. There is an existing system, but the focus is on setting up and maintaining a new data warehouse with an associated service aimed at data quality.

Our team is hard at work setting up the new data warehouse. This data warehouse is of crucial importance in the accountability chain to regulators. Completeness, correctness and timeliness are the keywords here. In addition, our system contributes to the realization of a number of very important business cases for Rabobank.

Because innovation takes place on both the source side and the customer side, we find ourselves in a challenging and dynamic environment.
In order to deliver and innovate our services with the right quality, we strive to be a high performing team. We believe that the ability to solve problems in the team is inexhaustible and therefore want to use the qualities of our team members as best as possible. Your opinion and ideas are therefore taken seriously. Fun, ownership and trust in each other form the basis of our team.

We work in accordance with DevOps and Scrum principles. We continuously develop ourselves within this working method, so that we can make the best possible use of its advantages and thus achieve the maximum achievable results.

The function: We are looking for a good DBA Operations Engineer for our Platform team. This team is set up to develop and manage our data warehouse. In the coming period, the focus will be on data warehouse automation (via Wherescape) and the further development of our platform. You perform DBA activities, such as daily management of the Oracle environments, but also more project-based activities such as migration to database 12C, performance tuning, automating management actions, etc. From a T-shape perspective, it is our preference that the DBA next to DBA - work also picks up Operations work such as monitoring, Linux management, release management, etc.
DBA Operations Engineer.
Locatie: Eindhoven.
Duur: 01-11-2022 - 30-09-2023 met optie op verlenging.
Engels: Toegestaan (allowed).
ZZP: Niet toegestaan (not allowed).
Aanbieden kan tot: 27-11-2022 16.00.
"DBA Operations Engineer
Functie eisen
The DBA Operations Engineer is responsible for:
- Proactively monitoring and managing the legacy system and the new data warehouse.
- Provide support with and implement changes within the data warehouse.
- Carrying out Life Cycle Management with regard to the software used.
- Continuously improve the delivery pipeline and the data warehouse platform.
- Carrying out root cause analyzes in case of production incidents.
- Automate administrative tasks as much as possible via shell scripting.

You are an experienced DBA in a complex Oracle data warehousing environment.
You are a proactive team player who works closely with other disciplines in the DevOps team. You therefore have a natural drive to delve into the adjacent disciplines (T-shape).
The challenge of the work lies in the constant search for the balance between continuity and innovation. The OE must be able to convince colleagues to meet quality standards of new deliveries. You therefore have good communication skills. You know how to put forward your own opinion through convincing and appealing arguments, whereby your attitude and tone match the other person. This ensures a broad base of support.
In addition, you are result-driven; you work towards a good result the first time. You regularly coordinate your activities and priorities with stakeholders within and outside the team. In addition, your focus is on initiating improvement.
You are self-aware, you know your unique qualities and you know how to use them as effectively as possible.

Required knowledge and experience
- Minimum completed HBO Informatics education.
- At least 3 years of work experience in a similar position in a banking IT environment.
- Very good knowledge of Oracle products such as 'Oracle Database 19c', RAC, ASM, Oracle Dataguard, backup & recovery, performance & tuning, Oracle Exadata, ZFS, 'Oracle Enterprise Manager 13c', Oracle Linux and virtualization, Shell Scripting.
- Knowledge and experience of DataWarehousing and ETL tooling (preferably Wherescape).
- Knowledge and experience in the field of operations (life cycle management, release management, etc).
- Knowledge and experience with HP SM9, Splunk, ITWS Scheduling is a plus.
- Knowledge and experience with DevOps, Scrum, ITIL.
-Experience in supporting Production and non-Production Oracle databases including instance creation, installation, configuration, system administration, troubleshooting, log collection, etc
- Performing DB Administration activities, Oracle User management activities.
-Responsible for database monitoring, troubleshooting and performance tuning.

Minimum Knowledge on below wrt Cloud
- Microsoft SQL Server on VM, Azure SQL Managed Instance, Azure SQL
-Experience in Azure native services such as Azure Active Directory, Azure Blob Storage, Virtual Machine, Keyvault
-Experience with configuration management and automation technologies such Azure CLI, ARM Templates."
Bedrijfsprofiel
Sharing would be appricatied! Paylaşırsanız sevinirim! Do you want to work for our client in The Netherlands? Hollandada ICT alaninda calismak?
Let's meet! Are you the person we're looking for? Are you our new colleague who will strengthen Rabobank as a Security Test Engineer and thus make the difference for yourself, our customers and society?
If you are, we are happy to receive your application including your motivation.
Growing a better world together: You'll already be aware that Rabobank is a financial services provider for 7.1 million customers in 40 countries. But did you know that we aim to contribute to real change with our 'Growing a better world together' mission? We do so in countless ways, such as:
A third of all the food we purchase is thrown away. Together with Nature & Environment, we're working to increase awareness among consumers of how to reduce food waste.

As part of a project with Humanitas, we are helping people who are experiencing financial difficulties to get their household finances in order.

Together with 'Vluchtelingenwerk Nederland' (the Dutch Council for Refugees), we are helping 1,500 refugees find a suitable job.
Interested? Do you want to become the ideal version of yourself? We would love to help you fuel and invest in your career and ambitions in an environment where you keep learning every day. We give you the space to innovate and initiate. In this way, we offer you numerous opportunities to grow and help you exceed your expectations, to do the right thing exceptionally well, and to therefore grow as a professional.
Our client is a financial service provider for 7.1 million customers in 40 countries, you know already. Our Red Team works for all the locations of our client in all these countries.
Do you also know that we are working together on a better world? We do this in 101 ways like for example our knowledge and experience of Ethical Hacking and Red Teaming sharing with other organizations and "hackers". That belongs to us at ' growing a better world together '
Arbeidsvoorwaarden
Do you want this too?
Be the best version of yourself? We are happy to help you by focussing your development and investing in an environment in which you continue to learn. We give you the space to innovate and undertake. For example, we offer you plenty of growth opportunities and help you surpass your expectations and do the right things exceptionally well, so that you can grow as a professional.
On top of that you can also count on us (based on a 36-hour working week):

An Employee Benefit Budget (10% of your monthly income). How you bet this budget is up to you. Consider buying extra holiday days or an additional deposit in your pension;

Relatively high flexibility in working hours and location independent work, depending on the planning in the team;

100% reimbursement of commuting if you travel with ov! Anyway with car or motorbike?
Then choose a commuting fee;
A pension scheme that you only contribute 5% to.
Let's get acquainted.
Are you him/her? The new colleague who wants to strengthen our clientas and to make the difference for yourself, our customers and society? We would like to receive your application on this vacancy.

Useful to know: Even if you do not meet the profile of 100%, but you think the role can be perfectly fulfilled, we ask you to apply, we invest in your growth and development.
Responses are handled in accordance with vacancy management.
Felix de Bruin IT Recruiter is happy to answer questions about the application process via mail or applying to the according link.
Screening is part of the application process. We test on the basis of the screening procedures that apply within our client or if new employees are sufficiently reliable to carry out work at our client.
For this vacancy, an individual assessment and a test of your skills can be part of the application process.
Everyone is different, and precisely the differences in people help us to be an even better bank. That's why we are curious about who you.
Locatie
Eindhoven
Publicatiedatum
23.11.2022
Publicatie eindigt
28.11.2022
Contactpersoon
Contactpersoon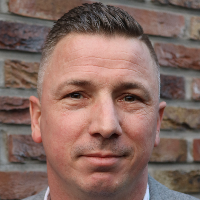 Maak vacature alert