DevOps Engineer Azure
Spoed
Functie omschrijving
Rabobank is a cooperative bank with over 8,5 million customers. Through large and small initiatives, the bank aims to make the world a little bit better. They support local enterprises and larger non-profit organisations and thus contribute to the welfare and prosperity of the community.
Who we are: The Rabobank's Enterprise Data Lake platform is being implemented by five teams for Data Producers, Data Consumers, Data Governance, Data Platform Storage, Service & Support. By this we enable teams and applications across the Rabobank to work with data.
We are looking for a DevOps Engineer with experience working with Azure Cloud Data Platforms as part of Agile teams (Scrum, Scaled Agile Framework).
You should have a growth mind-set (self-learner, ready to pick up new Azure services when required).
You are willing to develop new solutions and operate the Data Platform on a rotational basis (yes, every sprint we have an Operator of the Sprint!).
Besides your core team, you are free to join Chapter and Guild sessions and actively engage with other teams on complex technical and organizational subjects. The teams provide Data Platform services to end-user teams, supporting roles such as Data Engineers, Data Stewards, Data Analysts and Data Citizens. It is your responsibility that those colleagues can continue their work uninterrupted. The solutions created need to be usable, resilient, scalable and secure, and you think customer first.
Functie eisen
Must Skills:
PowerShell

YAML pipelines

Azure DevOps (Git, Boards)
Desired Skills
Python

You should be familiar with things like:

Azure Data Lake Storage

,

Azure Active Directory & RBAC,

Building and Consuming APIs (Azure Functions, App Services)

,

Azure Synapse Analytics
Bedrijfsprofiel
Sharing would be appricatied! Paylaşırsanız sevinirim! Do you want to work for our client in The Netherlands? Hollandada ICT alaninda calismak?

Our client is a financial service provider for 7.1 million customers in 40 countries, you know already. Our Red Team works for all the locations of our client in all these countries.




Do you also know that we are working together on a better world? We do this in 101 ways like for example our knowledge and experience of Ethical Hacking and Red Teaming sharing with other organizations and "hackers". That belongs to us at ' growing a better world together '
Arbeidsvoorwaarden
What we offer:
- State of the art solutions for you to work on.
- Close contact with Microsoft experts about roadmap, features, services and support
- We design, develop, manage and operate our own platform.
- Our teams are dedicated towards providing excellent technical performance. Help us achieve even higher availability and performance for hundreds of consuming developer teams.
- We provide an environment where you can experiment, prototype, develop and automate.
- High degree of independence as a team.
- Many valuable resources for you to develop your skills. Think: a dedicated Microsoft learning platform.
- Language: The candidate has a sufficient English proficiency (spoken and written, B2 Level).
- Competencies: We would like to receive a motivation showing the required competencies.
Useful to know: Even if you do not meet the profile of 100%, but you think the role can be perfectly fulfilled, we ask you to apply, we invest in your growth and development.
Responses are handled in accordance with vacancy management.
Felix de Bruin IT Recruiter is happy to answer questions about the application process via mail or applying to the according link.
Screening is part of the application process. We test on the basis of the screening procedures that apply within our client or if new employees are sufficiently reliable to carry out work at our client.
For this vacancy, an individual assessment and a test of your skills can be part of the application process.
Everyone is different, and precisely the differences in people help us to be an even better bank. That's why we are curious about who you.
Locatie
Utrecht
Publicatiedatum
12.01.2022
Publicatie eindigt
21.01.2022
Contactpersoon
Contactpersoon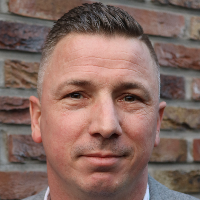 Maak vacature alert