DevOps Engineer Oracle Fusion
Doorlopende werving
Functie omschrijving
Imagine… That, as a part of a pro-active and extremely experienced squad, you are responsible for maintaining and decommissioning an Integration solution which is a critical Integration layer within Rabobank. It enables Sales, CRM and many more!
That every day these solution handles millions of messages for hundreds of applications. A responsibility with IMPACT, which you as a DevOps Engineer CRMi realize together with your squad within Area Integration.

• You are able to get all backlog items (user stories) from 'to do' to 'done'.
• You consult with the team about what is needed to fulfil the functional and non-functional requirements of the IT product to be developed.
• Reviewing software requirements and preparing test scenarios.
• Executing tests on software usability.
• Analysing test results on database impacts, errors or bugs, and usability.
• Preparing reports on all aspects related to the software testing carried
• Interacting with business to understand product requirements.
• Participating in design reviews and providing input on requirements, product design, and potential problems.
• You implement all mandatory security standards to ensure IT risk is and remain under control.
• You perform Life Cycle Management for IT products under management
• You ensure monitoring, logging and alerting is in place to be able to operate the application and the service without interruptions
• You contribute to incident resolution, and you solve root causes
• You apply continuous delivery practices:
o Manage all resources in version-controlled repositories (code, scripts, configurations, artefacts, static resources).
o Refactor and reuse existing code/modules/functionality.
o Build, enhance and maintain tooling and scripts to automate repetitive or error prone tasks.
DevOps Engineer.
Locatie: Utrecht.
Duur: 16-08-2021 - 31-07-2021 met optie op verlenging.
Engels: Toegestaan (allowed).
ZZP: Niet toegestaan (not allowed).
Aanbieden kan tot: doorlopend.
Functie eisen
We are looking for
• Managing and operating Oracle Fusion Middleware
• Hands on experience with RubiconRed MySt
• IBM MQ knowledge
• Hands on experience and knowledge of SQL/PLSQL Z/os DB2 and Oracle Database
• Knowledge and experience Linux
• Proven knowledge of Continuous Delivery (Jenkins)
• Flexibility in learning new development technologies
• Open mind set to explore new technologies to solve business problems
• Strong team player skills, empowering and challenging the squad members in a constructive way.
• Experience with the Agile way of working.

Working together: We see collaboration as the best way to deliver strong results. We use Scrum as an agile way of working in our Tribe. We bring together talented people to get things done, innovate and provide the best possible customer experience. We also have a strong focus on T-shape profiles.
Bedrijfsprofiel
Our client is a financial service provider for 7.1 million customers in 40 countries, you know already. Our Red Team works for all the locations of our client in all these countries.
Do you also know that we are working together on a better world? We do this in 101 ways like for example our knowledge and experience of Ethical Hacking and Red Teaming sharing with other organizations and "hackers". That belongs to us at ' growing a better world together '
Locatie
Utrecht
Publicatiedatum
01.11.2021
Publicatie eindigt
12.12.2021
Contactpersoon
Contactpersoon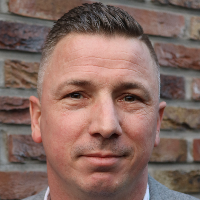 Maak vacature alert