DevOps Engineer WAN
Nieuw
Functie omschrijving
The opportunity : We are providing the foundation of the bank; the infrastructure. So monitoring is key for us. We are working on improving the way we monitor our systems so that we can stay a step ahead and ensure the continuity of our systems. Are you interested in implementing, and improving ING's monitoring in a global scale network and do you have a passion for network automation then this is your opportunity? Read on!
The team: The G-WAN & Network Services Squad is responsible for delivering the base network monitoring infrastructure, consumed by other teams to build their network monitoring. You are also the subject matter expert on the network monitoring stack's new features and help out with new implementations. The position is a DevOps role and requires building and working with containers, infrastructure as code, automation with Ansible, knowledge on the ELK stack or Prometheus, Telegraf & Grafana.
Roles and responsibilities
You will be working as a DevOps Engineer so your day-to-day work will consist of:
Improving, and implementing enterprise-level monitoring by using emerging technologies

Automating as much as possible by coding, scripting

Collaboration with WAN engineers on daily tasks

Making sure we are secure and compliant

Being an active team player who takes responsibility
Location: Amsterdam and Rotterdam
Functie eisen
How to succeed: We hire smart people like you for your potential. Our biggest expectation is that you'll stay curious. Keep learning. Take on responsibility. In return, we'll back you to develop into an even more awesome version of yourself.
Experience or passion to improve enterprise-level monitoring by enabling advanced monitoring features like anomaly detection/prediction, event correlation, application/platform-centric monitoring, behavioral monitoring, etc.

Experience in network monitoring (e.g. InfluxDB, Prometheus, Elasticsearch, Telegraf, Logstash, Kibana & Grafana, SNMP, NetFlow, Network Telemetry)

Experience in orchestration platforms (e.g. Terraform, Ansible, Saltstack, Chef, Puppet, Azure Automation, Google Cloud Deployment Manager, AWS Cloud formation, etc.)

Knowledge of Cisco Routing & Switching (level CCNA/CCNP)

Ability to clearly and succinctly express ideas, facts, and opinions
Bedrijfsprofiel
We are ambitious and ask a lot of you. So it is so fair to give you a lot in return. That is why our employment conditions are good to very good! In a number of areas we are distinctive and an example for other organizations.
You get an excellent salary with us and build up a good pension. You can opt for an OV annual card and / or a travel allowance. You may also decide on part of your employment conditions yourself, for example when you pay your vacation allowance, or the 13th month.
In addition to our excellent employment conditions, we are happy to invest in your craftsmanship!
Craftsmanship is what makes and keeps us big. Take the opportunity to continue to develop your skills and innovative strength and to expand your network.
Surprise yourself! Not with how good you are, but with how good you can be. Do it better than everyone thought possible. And continue to develop into an ever better version of yourself.
We invest in your personal leadership and your craftsmanship. We both benefit from that. You become more valuable to us and at the same time you are always prepared for the next step in your career.
We believe diversity is important, and therefore want to create an open and accessible working environment. The reason we do this, because we want you to be able to focus all your energy on your work and development.
Important: Remain yourself, nobody can determine who you are better than you!
Locatie
Rotterdam
Publicatiedatum
28.07.2022
Publicatie eindigt
28.08.2022
Contactpersoon
Contactpersoon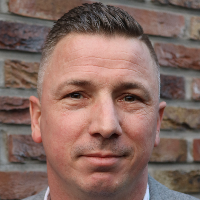 Maak vacature alert