Front-end Developer
Doorlopende werving
Functie omschrijving
Our day-to-day business at Rabobank Online is reinventing the way customers interact with their bank. Around 5 million customers in the Netherlands use Rabobank's mobile banking services and many more people visit our website. A large number of our business customers rely on Rabo Business Banking on a daily basis. Our channels are a stepping stone towards creating a personalised environment that revolves around the customer on a multitude of devices. In the Netherlands as well as for our international customers around the globe.

Your technical expertise will be seen as invaluable. We're looking for colleagues who don't hold back and will push for solutions, dare to challenge, are passionate about technology and have considerable experience in web development.

Your role We are in particular looking for a senior front-end developer for a team in our area Business. The purpose of the team is giving business customers better insights in their financials, for example with transaction overview, accounts overview, balance insights etc.
In this role we not only expect you to show us your best coding skills, but also to guide the team, bring structure where needed, have an eye for overall quality including the operations responsibility of the team (all team members are stand by on rotation basis) and work together with the other developers and solution architects to stand for the overall quality of the products and services we deliver.

Our Technology stack: Angular 8+, Typescript 2/3, JavaScript, CSS/SCSS, Jest, Ionic 4, Stencil, WebComponents , NodeJS, Java, Springboot, Pivotal Cloud Foundry, Azure DevOps, Azure pipelines.
As a developer you can make a difference!

Rabobank Online is a breeding ground for innovation in multiple ways: apart from delivering great customer functionality we build, test and run it with the latest technology stack. We seek to continuously improve the way we work and by doing that becoming the most customer-oriented bank in the Netherlands. Are you our new hero?

With each other: Collaboration is at the heart of everything we do. Our DevOps teams bring talented people together to build, test and run the best solutions for our users. You can work on your task autonomously, but never lose the focus on the team goals. What makes our department so special is that we work in close collaboration with the end users.
So as a front-end developer you co-create new and innovative solutions to enhance the user friendliness of all our channels.

At Online, we thoroughly believe in strong teams! Within these teams we constantly challenge each other to work on ways to improve our platform. We love pair programming, do occasional mob programming, and organise knowledge sharing sessions to keep everyone in the loop on the latest developments. We're all active within guilds we've set up internally and many of us regularly visit conferences and meetups to either present ourselves, or to get informed about the latest developments in our area of expertise.
Front-end Developer.
Locatie: Utrecht.
Duur: 01-10-2021 - 30-09-2022 met optie op verlenging.
Engels: Toegestaan (allowed).
ZZP: Niet toegestaan (not allowed).
Aanbieden kan tot: 11-11-2021 16.00.
Senior front-end developer
Functie eisen
With you:Communication, customer focus, critical thinking and problem solving are essential skills. In addition, it's important that you recognise everything in the checklist below:
• 5+ years experience in building enterprise applications with common web technologies
• Demonstrated ability to follow development best practices;
• Experience with modern web frameworks and/or libraries, especially Angular;
• Experience using TypeScript and modern Javascript (ES6);
• Experience in writing unit tests and integration tests for web applications;
• Experience in application state management (Redux or similar) and RxJS library;
• Scrum way of working and DevOps mentality (writing user stories, contributing to Scrum ceremonies, testing, monitoring of application using tools like Splunk, Dynatrace managed etc.,).
• Knowledge of architectural principles;
• Must be able to brainstorm and communicate ideas with your team as well other stakeholders;
• Has a great sense on business value;
• Challenge and coach team members;
• Willingness to learn new technologies;
• Fluent English is a must.
Bedrijfsprofiel
Sharing would be appricatied! Paylaşırsanız sevinirim! Do you want to work for our client in The Netherlands? Hollandada ICT alaninda calismak?
Our client is a financial service provider for 7.1 million customers in 40 countries, you know already. Our Red Team works for all the locations of our client in all these countries.
Do you also know that we are working together on a better world? We do this in 101 ways like for example our knowledge and experience of Ethical Hacking and Red Teaming sharing with other organizations and "hackers". That belongs to us at ' growing a better world together '
Locatie
Utrecht
Publicatiedatum
09.11.2021
Publicatie eindigt
12.12.2021
Contactpersoon
Contactpersoon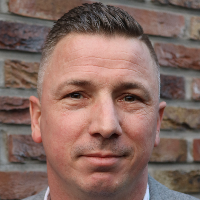 Maak vacature alert