IT Engineer F5 -Palo Alto Network
Doorlopende werving
Functie omschrijving
Would like to work for our client in Amsterdam/Rotterdam, The Netherlands? Read on.
The Job: Building a secure network is your hobby, but you can switch easily in a mindset to an enterprise environment where uptime, performance, and security are critical to serving our customers optimally. You like to script and program for fun but can apply these skills to your job as well. You are an energetic engineer who is creative and has a can-do mentality. You are a team player, collaboration and sharing knowledge is a natural behavior.
Based in Rotterdam, you will join an international team who is responsible for managing and developing's the IaaS technology of ING cloud platforms.

You will participate in agile work processes such as daily stand-ups, sprint reviews, and planning. Together with the Product Owner, the team (Squad) works on common goals and a shared backlog. We use video and collaboration tools to facilitate the communication process.
Functie eisen
You recognize yourself in this profile (Competencies):
You have experience in implementing, configuring and changing network infrastructure. You are able to make mental connections and challenge network designs on technical implementation and security aspects. You are pro-active and are verbally and written competent in the English language.

Competencies – Skills
• Broad knowledge of DC environments
• Knowledge of routing and switching protocols in a highly available environment
• Experience and preferable one or more certifications on or more of these technologies:
o F5 load balancers (F5 Certified BIG-IP Administrator)
o Palo Alto Networks firewalls (PCNSA) or other firewall products
o Routing and switching
o VMware NSX

• You can manage (monitor, evaluate, continuously improve) Incident, Problem, Change and Configuration Management processes
• Technical implications of Security and Risk principles
• Clear understanding of consumer context and needs, as well as the value-add of your service to the consumer
• Understanding of the Scrum methodology (e.g. backlog and sprint planning, review and marketplace)
• Strong analytical skills
• Insight and implementation of desired structural infrastructure solution
• Creating and improve documentation and work instructions on the delivered infrastructure solution
• The technology of interfacing squads and consumers to achieve an end-to-end view
• Impact of different factors on the performance and capacity of services different elements on the performance and capacity of services
• Working-level knowledge of Agile and DevOps practices
• Understanding of the Scrum methodology (e.g., backlog and spring planning, review and marketplace)
• Knowledge of DevOps way of working (e.g., continuous delivery, cross-functional team set-ups, development of cross-skilled squad members)
Competencies, bonus
• Knowledge of scripting and automation tools
• Experience and preferable one or more certifications on:
o Experience in cloud deployment and infrastructure services
o Extensive knowledge of
o Experience or knowledge of Open Networking platforms
o You know your way around with orchestration platforms as Terraform, Ansible, Saltstack, Chef, Puppet, Azure Automation, Google Cloud Deployment Manager, AWS Cloud formation etc.
• Experience scripting in one or more of the following languages; Python, Bash, PowerShell, JavaScript
Competencies - Behaviors
• The mindset of openness and willingness to try new ways of working and technologies
• End-to-end ownership mindset
• Active team player who takes responsibility
• Independent and autonomous in completing tasks
• The mentality of continuous improvement of the service and way of working
• Reflects upon behaviours and performance to proactively identify improvement areas
• Strong problem solver to structure and improve complex situations
• Coaches others to help their individual development
Your education and background
• Professional and intellectual IT ability at least a bachelor's degree
• Certifications or proven proficiency in Networking and Security
• Certifications or proven proficiency in one or more programming/scripting languages
• Excellent command of spoken and written English

We work in hybrid mode, working from home and from the Rotterdam office
Bedrijfsprofiel
We are ambitious and ask a lot of you. So it is so fair to give you a lot in return. That is why our employment conditions are good to very good! In a number of areas we are distinctive and an example for other organizations.
You get an excellent salary with us and build up a good pension. You can opt for an OV annual card and / or a travel allowance. You may also decide on part of your employment conditions yourself, for example when you pay your vacation allowance, or the 13th month.
In addition to our excellent employment conditions, we are happy to invest in your craftsmanship!
Craftsmanship is what makes and keeps us big. Take the opportunity to continue to develop your skills and innovative strength and to expand your network.
Surprise yourself! Not with how good you are, but with how good you can be. Do it better than everyone thought possible. And continue to develop into an ever better version of yourself.
We invest in your personal leadership and your craftsmanship. We both benefit from that. You become more valuable to us and at the same time you are always prepared for the next step in your career.
We believe diversity is important, and therefore want to create an open and accessible working environment. The reason we do this, because we want you to be able to focus all your energy on your work and development.
Important: Remain yourself, nobody can determine who you are better than you!
Locatie
Rotterdam
Publicatiedatum
11.10.2021
Publicatie eindigt
20.11.2021
Contactpersoon
Contactpersoon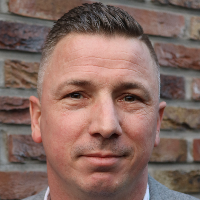 Maak vacature alert