Java Developer
Spoed
Job description
Redefining Business Lending services for the digital era and being part of the largest Tribe within Rabobank, Tribe Business Lending. Rabobank serves 7.1 million clients globally and owns more than 40% of the corporate lending market in the Netherlands and in this landscape the Area Retail Origination Journey within our Tribe is responsible for realizing the best digital solutions for the customer journey of entrepreneurs.
You and your job: You as a senior software engineer really make an impact on the way our customers perceive the services we render at Rabobank. You make it possible to give our customers a delightful and seamless experience, which today highly depends on our online availability.
We are looking for someone who can think on a conceptual level. Hands on and recent experience with Java is a must. Our core system runs on Java 17 and is composed of several Spring-based microservices. We use Apache Kafka as event streaming platform where our micro-services consume-produce events from-to, our micro-services run on AWS Cloud. Knowledge about these products and services is of course an advantage, but willingness to learn is more important. We work DevOps, as a DevOps squad we do not only add new features but also together we take responsibility for the full lifecycle. This includes taking responsibility for architecture, security, performance, and monitoring. We follow the principle: you build it, you run it!
Your technical expertise will be seen as invaluable. We're looking for colleagues who don't hold back and will push for solutions, dare to challenge the status quo, are passionate about technology and have considerable experience in software engineering on modern technology stacks. We don't need just an extra pair of hands, but someone who complements the existing team, brings in new knowledge and ideas.
Together we achieve more than alone. We believe in the power of diversity. By combining the differences of every person in our squad, we become a better organization. In every way, we are curious to learn what you can bring to the team of Quantum. Squad Quantum consists of a group of Individuals that trust each other and are committed to work together toward a common vision/goal. As a squad we like to learn and code together and have fun while doing so. We have a passion for quality and collaboration is at the heart of everything we do!'
Functie eisen
You and your talent : Within Business Lending we value integrity, customer focus, an 'improvement and embracing change' mind-set and openness. In addition, it is important that you are a team player, have leadership skills and recognise yourself in the checklist below:
-5+ years working experience as a DevOps Engineer in complex IT landscape;
-Bachelor's or Master's degree in e.g. computer sciences;
-Very good communication and cooperation skills;
-In-dept Java/Springboot knowledge & experience, preferably Java 8 & above;
-Hands on experience with developing microservices using Java Frameworks: Spring,
Hibernate, JPA etc.
We follow a shift-left approach to software development, so you should be in a state to write automated tests for all phases and deploy your code as containers on AWS.
- Understanding of microservices and distributed application architectures
- Good documentation & troubleshooting skills
- Experience with Splunk, Azure DevOps, CI/CD pipelines
- Security, Continuity and Quality mindset
- Fluent in English (verbally and in writing)
- Experience with REST APIs, SOAP services
- Familiarity with build tools such as Maven, and Gradle.
- Agile mindset and experience in working agile/scrum
Really nice to have:
- Experience with event streaming platforms preferably Apache Kafka;
- Experience with NOSQL databases;
- Experience in Business Lending Environment.
Bedrijfsprofiel
Sharing would be appricatied! Paylaşırsanız sevinirim! Do you want to work for our client in The Netherlands? Hollandada ICT alaninda calismak?
Let's meet! Are you the person we're looking for? Are you our new colleague who will strengthen Rabobank as a Security Test Engineer and thus make the difference for yourself, our customers and society?
If you are, we are happy to receive your application including your motivation.
Growing a better world together: You'll already be aware that Rabobank is a financial services provider for 7.1 million customers in 40 countries. But did you know that we aim to contribute to real change with our 'Growing a better world together' mission? We do so in countless ways, such as:
A third of all the food we purchase is thrown away. Together with Nature & Environment, we're working to increase awareness among consumers of how to reduce food waste.

As part of a project with Humanitas, we are helping people who are experiencing financial difficulties to get their household finances in order.

Together with 'Vluchtelingenwerk Nederland' (the Dutch Council for Refugees), we are helping 1,500 refugees find a suitable job.
Interested? Do you want to become the ideal version of yourself? We would love to help you fuel and invest in your career and ambitions in an environment where you keep learning every day. We give you the space to innovate and initiate. In this way, we offer you numerous opportunities to grow and help you exceed your expectations, to do the right thing exceptionally well, and to therefore grow as a professional.
Our client is a financial service provider for 7.1 million customers in 40 countries, you know already. Our Red Team works for all the locations of our client in all these countries.
Do you also know that we are working together on a better world? We do this in 101 ways like for example our knowledge and experience of Ethical Hacking and Red Teaming sharing with other organizations and "hackers". That belongs to us at ' growing a better world together '
Arbeidsvoorwaarden
Do you want this too?
Be the best version of yourself? We are happy to help you by focussing your development and investing in an environment in which you continue to learn. We give you the space to innovate and undertake. For example, we offer you plenty of growth opportunities and help you surpass your expectations and do the right things exceptionally well, so that you can grow as a professional.
On top of that you can also count on us (based on a 36-hour working week):

An Employee Benefit Budget (10% of your monthly income). How you bet this budget is up to you. Consider buying extra holiday days or an additional deposit in your pension;

Relatively high flexibility in working hours and location independent work, depending on the planning in the team;

100% reimbursement of commuting if you travel with ov! Anyway with car or motorbike?
Then choose a commuting fee;
A pension scheme that you only contribute 5% to.
Additional information:
A candidate should be submitted exclusively to IF Solutions the exclusivity period of 4 business days on one request;

Furthermore, the candidate has to be available throughout the entire duration of the assignment;

All submitted candidates must be in possession of a valid Passport or ID card, which must be taken along to the interview and at the start of the assignment;

Due to COVID-19, this client is following the guidelines of the government and RIVM including remote working (at home);

Pre-employment screening: If the candidate is selected to start, a pre-employment screening will be executed. We will send you the required documents to be filled in and returned as soon as possible. Your candidate is only allowed to start after the pre-employment screening has been completed successfully;
Let's get acquainted.
Are you him/her? The new colleague who wants to strengthen our clientas and to make the difference for yourself, our customers and society? We would like to receive your application on this vacancy.

Useful to know: Even if you do not meet the profile of 100%, but you think the role can be perfectly fulfilled, we ask you to apply, we invest in your growth and development.
Responses are handled in accordance with vacancy management.
Felix de Bruin IT Recruiter is happy to answer questions about the application process via mail or applying to the according link.
Screening is part of the application process. We test on the basis of the screening procedures that apply within our client or if new employees are sufficiently reliable to carry out work at our client.
For this vacancy, an individual assessment and a test of your skills can be part of the application process.
Everyone is different, and precisely the differences in people help us to be an even better bank. That's why we are curious about who you.
Locatie
Utrecht
Publicatiedatum
25.01.2023
Publicatie eindigt
30.01.2023
Contactpersoon
Contactpersoon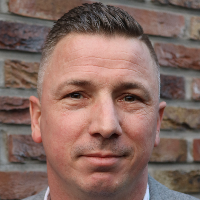 Maak vacature alert