Network Security Specialist
Doorlopende werving
Functie omschrijving
As a Network Security specialist you must be able to work in small and large teams but also work independently and actively search for answers and solutions in a complex technical enterprise environment. We expect you to actively work on the continuous improvement of our IT services by utilizing current and future solutions in our datacenters and in the cloud. You collaborate with other teams to find, design, build, test, implement and maintain security solutions for the Rabobank.
Duties and responsibilities:
Design, configure, implement and maintain additional network security safeguards

Design, configure, provision and maintain IDS/IPS security policies

Design, configure, provision and maintain Threat Prevention security policies

Security monitoring – network monitoring and intrusion detection analysis to determine if there have been any attacks. Analyse network traffic to identify anomalies and test the information security controls for weaknesses

Threat response – Take action to contain malicious activity that has been detected, to minimize damage. Facilitate forensic analytics to determine the threat source.

Research emerging threats – conduct research in IT Security to gain awareness of the latest information security technological developments

Communicate Security issues to management and Cyber Defense Center

Identify areas for improvement in detection & protection measures and initiate solutions

Provide 2nd and 3rd line support (during business hours and during standby)

Implement customer Firewall and DNS requests.

Participation in projects

Create and solve network security change and problem tickets

Lifecycle Management : Manage updates/upgrades/patches

Maintain relationship with stakeholders and vendors

Create and maintain operational support procedures

Create and maintain related documentation

Run usage reports

Security & Compliance

Maintain CMDB
Role: Network Security Specialist
Start date: January 2023
Duration: 6 months
Extension: Possible 2 x 6 months
Hours: 36 hours per week
The recruiting process for this vacancy is a ongoing process!
Functie eisen
Knowledge and required experience:
Personal drive to learn and work with new technologies and products as required with a strong focus on cloud transformation and zero trust architecture
The ability to analyse and troubleshoot in a logical manner in order to rectify customer issues efficiently
Solid Networking skills at layer 3 and above
Experience with networking and security in enterprise network infrastructure environments
Experienced trouble-shooter on network issues and familiarity with the necessary tools Tcp dump and Wireshark
Knowledge & Experience with a broad portfolio of security services like Firewalls, IDS/IPS, Threat Prevention, VPN's, Web Gateways like Palo Alto, Checkpoint, ZScaler, F5, Akamai, Clearpass, Infoblox
Knowledge & Experience with Networking (Routing/Switching, DNS/DHCP)
Knowledge & Experience with IPv4, IPv6, HTTP, SSL, FTP, DNS
Knowledge & Experience on Web browsers and PAC-files
Knowledge of Authentication systems and Identity Providers such as LDAP, MS AD, ADFS
Experience with (API) scripting is a plus
Experience in any programming languages is a plus
Strong analytical and communication skills
Dutch & English writing and speaking
Knowledge and experience with Agile, Lean and ITIL.
Working conditions: This job role is split between operational (run) and project (build) work (75%/25%). Some changes are planned outside business hours to minimize business impact. This job vacancy is for the location Utrecht (NL).
Remark: Due to Covid-19 restrictions it is required to work remotely via Teams.
Response/Apply:
Most recent CV, in Word format, max 5 x A4, in English/Dutch language
Solid motivation, focused on the application
Explanation of the requirements and competences set [red highlighted]
At least 1 recent reference, which can be verified!
Availability
Bedrijfsprofiel
Sharing would be appricatied! Paylaşırsanız sevinirim! Do you want to work for our client in The Netherlands? Hollandada ICT alaninda calismak?
Let's meet! Are you the person we're looking for? Are you our new colleague who will strengthen Rabobank as a Security Test Engineer and thus make the difference for yourself, our customers and society?
If you are, we are happy to receive your application including your motivation.
Growing a better world together: You'll already be aware that Rabobank is a financial services provider for 7.1 million customers in 40 countries. But did you know that we aim to contribute to real change with our 'Growing a better world together' mission? We do so in countless ways, such as:
A third of all the food we purchase is thrown away. Together with Nature & Environment, we're working to increase awareness among consumers of how to reduce food waste.

As part of a project with Humanitas, we are helping people who are experiencing financial difficulties to get their household finances in order.

Together with 'Vluchtelingenwerk Nederland' (the Dutch Council for Refugees), we are helping 1,500 refugees find a suitable job.
Interested? Do you want to become the ideal version of yourself? We would love to help you fuel and invest in your career and ambitions in an environment where you keep learning every day. We give you the space to innovate and initiate. In this way, we offer you numerous opportunities to grow and help you exceed your expectations, to do the right thing exceptionally well, and to therefore grow as a professional.
Our client is a financial service provider for 7.1 million customers in 40 countries, you know already. Our Red Team works for all the locations of our client in all these countries.
Do you also know that we are working together on a better world? We do this in 101 ways like for example our knowledge and experience of Ethical Hacking and Red Teaming sharing with other organizations and "hackers". That belongs to us at ' growing a better world together '
Arbeidsvoorwaarden
Working conditions This job role is split between operational (run) and project (build) work (75%/25%). Some changes are planned outside business hours to minimize business impact. This job vacancy is for the location Utrecht (NL).
Do you want this too?
Be the best version of yourself? We are happy to help you by focussing your development and investing in an environment in which you continue to learn. We give you the space to innovate and undertake. For example, we offer you plenty of growth opportunities and help you surpass your expectations and do the right things exceptionally well, so that you can grow as a professional.
On top of that you can also count on us (based on a 36-hour working week):

An Employee Benefit Budget (10% of your monthly income). How you bet this budget is up to you. Consider buying extra holiday days or an additional deposit in your pension;

Relatively high flexibility in working hours and location independent work, depending on the planning in the team;

100% reimbursement of commuting if you travel with ov! Anyway with car or motorbike?
Then choose a commuting fee;
A pension scheme that you only contribute 5% to.
Let's get acquainted.
Are you him/her? The new colleague who wants to strengthen our clientas and to make the difference for yourself, our customers and society? We would like to receive your application on this vacancy.

Useful to know: Even if you do not meet the profile of 100%, but you think the role can be perfectly fulfilled, we ask you to apply, we invest in your growth and development.
Responses are handled in accordance with vacancy management.
Felix de Bruin IT Recruiter is happy to answer questions about the application process via mail or applying to the according link.
Screening is part of the application process. We test on the basis of the screening procedures that apply within our client or if new employees are sufficiently reliable to carry out work at our client.
For this vacancy, an individual assessment and a test of your skills can be part of the application process.
Everyone is different, and precisely the differences in people help us to be an even better bank. That's why we are curious about who you.
Locatie
Utrecht
Publicatiedatum
15.12.2022
Publicatie eindigt
29.01.2023
Contactpersoon
Contactpersoon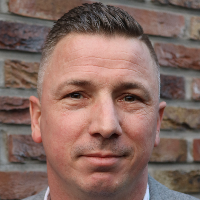 Maak vacature alert