Network Security Specialist
Functie omschrijving
The Network Security & Connectivity team is responsible for ensuring a secure network infrastructure environment and enforcing secure application delivery and access policies through the network. They maintain and support global Firewall, IDS/IPS, and DDI (DNS/DHCP) services, as well as manage the daily operations and maintenance of security products. With the increasing demands of a robust and secure IT network infrastructure, the team needs to expand its capabilities in detection and response. These security functions will be delivered as a global service to different regions. As a result, we are seeking Network Security specialists who can also focus on anomaly detection, analysis, and preemptive response for both on-premise and cloud-managed security services.
Some examples of security functions within our service portfolio include Secure Application Delivery, Network DDoS mitigation, building a unified corporate internet policy, and maintaining and improving Rabobank's security perimeter.
As a Network Security specialist, you will collaborate with small and large teams while also being able to work independently in a complex technical enterprise environment. You should actively search for answers and solutions, contribute to the continuous improvement of our IT services by leveraging current and future solutions in data centers and the cloud, and work with other teams to find, design, build, test, implement, and maintain security solutions for Rabobank.
Duties and Responsibilities:
Implement customer Firewall and DNS requests.

Design, configure, implement, and maintain additional network security measures.

Design, configure, provision, and maintain Access Control security policies.

Design, configure, provision, and maintain IDS/IPS security policies.

Design, configure, provision, and maintain Threat Prevention security policies.

Provide 2nd and 3rd line support to resolve incidents or problems during business hours and standby periods.

Participate in projects related to network security.

Create and resolve change and problem tickets.

Provision and maintain security services.

Manage software and hardware upgrades/patches as part of the Live Cycle Management process.

Ensure security and compliance with relevant standards.

Manage operational capacity.

Maintain relationships with stakeholders and vendors.

Develop and maintain operational support procedures.

Maintain CMDB (Configuration Management Database).

Generate and analyze usage reports.
Working Conditions: This job role involves a combination of operational (run) and project (build) work, with 75% focused on operational tasks and 25% on project-related responsibilities. Some changes may occur outside of business hours to minimize the impact on business operations. The job vacancy is located in Utrecht, Netherlands.
Functie eisen
Are you passionate about learning and embracing new technologies and products, particularly in the realms of cloud transformation and zero trust architecture? We are seeking individuals who possess the drive to continuously expand their knowledge and skills in these areas.
In this role, your analytical and troubleshooting abilities will be put to the test as you efficiently rectify customer issues by applying logical thinking. You should have a strong foundation in networking, specifically at layer 3 and above, enabling you to navigate complex network environments effectively.
We have some demanding requirements for this position; which include holding CCSE and/or CCSA certificates, as well as having experience with Checkpoint IPS IDS or F5. Previous experience working with networking and security in enterprise network infrastructure environments is highly valued. Proficiency in scripting, preferably with PowerShell, is desired, and experience with (API) scripting would be a plus. You should be an experienced troubleshooter when it comes to network issues, with familiarity in utilizing tools such as Tcpdump and Wireshark.
A broad knowledge and experience with security services such as Firewalls, IDS/IPS, Threat Prevention, VPNs, and Web Gateways (e.g., Palo Alto, Checkpoint, ZScaler, F5, Akamai, Clearpass, Infoblox) is essential. Additionally, you should have a solid understanding of Networking (Routing/Switching, DNS/DHCP) and protocols like IPv4, IPv6, HTTP, SSL, FTP, and DNS. Familiarity with authentication systems and identity providers such as LDAP, MS AD, and ADFS is also beneficial. Any experience in programming languages will be considered a plus.
To succeed in this role, you should possess strong analytical and communication skills. Proficiency in both written and spoken English is required. Knowledge and experience with Agile, Lean, ITIL, and DevOps methodologies will be advantageous.
If you are interested in applying for this role, please provide the following information:
An up-to-date CV in English, preferably in Word format (PDF formats are not accepted).

A solid motivation statement focused on the application and the role.

A clear and detailed description of your relevant experience, including the number of years, organizations worked with, and specific roles undertaken.
If you happen to know someone who would be a great fit for this position, please connect us with them.
Please note that incomplete submissions will not be processed, so ensure that you provide all the requested information.
Bedrijfsprofiel
Sharing would be appreciated! Paylaşırsanız sevinirim! Would you like to work for our client in the Netherlands? Hollanda'da ICT alanında çalışmak ister misiniz?
Let's meet! Are you the person we are searching for? Will you be our new colleague who will strengthen our client's team and make a difference for yourself, our customers, and society?
If you are, we would be delighted to receive your application, including your motivation.
Growing a better world together: You are already aware that our client is a financial services provider for 7.1 million customers in 40 countries. However, did you know that we strive to contribute to real change through our "Growing a better world together" mission? We do so in numerous ways, including:
Working with Nature & Environment to raise consumer awareness about reducing food waste, as one-third of all purchased food is discarded.

Assisting individuals facing financial difficulties in organizing their household finances through a project with Humanitas.

Collaborating with "Vluchtelingenwerk Nederland" (the Dutch Council for Refugees) to help 1,500 refugees find suitable employment.
Interested? Do you want to become the best version of yourself? We would love to support and invest in your career and ambitions in an environment where you can continuously learn. We provide you with the freedom to innovate and take the initiative. In this way, we offer numerous opportunities for growth, helping you exceed your expectations and excel as a professional.
Did you also know that we are working together towards a better world? We do so in 101 ways, such as sharing our knowledge and experience of Ethical Hacking and Red Teaming with other organizations and "hackers." This commitment is an integral part of our mission to "grow a better world together."
Arbeidsvoorwaarden
Working conditions: This job role offers a balanced split between operational (run) and project (build) work, with a distribution of 75% operational and 25% project-related tasks. To minimize the impact on business operations, some changes may be scheduled outside of regular business hours. The location for this job vacancy is in Utrecht, the Netherlands.
Do you want this too?
Do you aspire to be the best version of yourself? We are delighted to support your development and invest in an environment where continuous learning is encouraged. We provide you with the freedom to innovate and take initiative. By offering numerous growth opportunities, we help you exceed your own expectations and excel in your work, enabling you to grow both personally and professionally.
Moreover, you can expect the following benefits based on a 36-hour working week:
An Employee Benefit Budget equivalent to 10% of your monthly income, which you can use according to your preferences. This budget allows you to purchase additional holiday days or make additional contributions to your pension.

Flexible working hours and the possibility of location-independent work, depending on the team's planning.

100% reimbursement of commuting costs if you travel using public transportation. If you commute by car or motorcycle, you can opt for a commuting allowance.

A pension scheme with a contribution rate of only 5% from your side.
Let's get to know each other.
Are you the person we are looking for? The new colleague who wants to strengthen our client's team and make a difference for yourself, our customers, and society? We would love to receive your application for this vacancy.
Please note: Even if you don't meet all the criteria mentioned in the profile, but you believe you can fulfill the role effectively, we encourage you to apply. We invest in your growth and development.
Responses to applications are handled in accordance with our vacancy management process.
If you have any questions about the application process, Felix de Bruin, IT Recruiter, will be happy to assist you via email or through the provided application link.
Screening is a standard part of the application process. We assess candidates based on the screening procedures followed by our client to ensure that new employees are reliable and suitable for their roles.
For this vacancy, an individual assessment and skills testing may be included as part of the application process.
We believe that everyone is unique, and it is precisely these differences that help us become an even better bank. That's why we are curious to know more about you.
Locatie
Utrecht
Publicatiedatum
09.11.2023
Publicatie eindigt
10.12.2023
Contactpersoon
Contactpersoon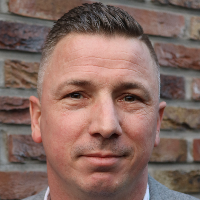 Maak vacature alert