Pen Tester - Ethical Hacker
Doorlopende werving
Functie omschrijving
Are you an experienced professional, that wants to take the next step and join an international team with various types of complex penetration tests, security assessments projects?
Get the chance to contribute at high level, work independently and lead pen test projects while collaborating with other senior security experts on the team.
The international projects will vary and can be a combination of application pen testing, web app pen tests/mobile pen tests, source code reviews, infrastructure security assessments and penetration testing, or other security assessments projects.
We are looking for one of the largest financial organizations in the Netherlands a:

Pen Tester - Ethical Hacker
Netherlands
36 hours per week
Start: ASAP
Functie eisen
Requirements:
Master/ Bachelor diploma

OSCP Certified

3-5 years' experience as Pen Tester

Experience with Crypto

Experience with Azure

Experience with Pipelines
Competencies:
Hands on mentality

Experience in ethical hacking – security penetration tests

Experience in application penetration testing and code reviews

Ability to work independently, take initiative and lead own projects.

Team work mentality, as you'll work closely with colleagues on projects, share knowledge and learn from each other.

Good communication skills and ability to working with all stakeholders, internal and external, advising clients and consulting on findings relating them to their business through direct contact and solid assessment reports.

Curiosity, problem solving mentality
Apply:

If you want to apply for this role, we will need the following information from you:
Most up to date cv, in the English language, in a Word format [ PDF formats are not accepted by our clients ]

Solid motivation, focused on the application / role

Good description of all desired requirements, wishes and competences. All red highlighted points, specified in the application, must be described separately and clearly [ Number of years of work experience, with which organization and in which role these have been carried out etc. ]
Bedrijfsprofiel
Sharing would be appricatied! Paylaşırsanız sevinirim! Do you want to work for our client in The Netherlands? Hollandada ICT alaninda calismak?
Let's meet! Are you the person we're looking for? Are you our new colleague who will strengthen Rabobank as a Security Test Engineer and thus make the difference for yourself, our customers and society?
If you are, we are happy to receive your application including your motivation.
Growing a better world together: You'll already be aware that Rabobank is a financial services provider for 7.1 million customers in 40 countries. But did you know that we aim to contribute to real change with our 'Growing a better world together' mission? We do so in countless ways, such as:
A third of all the food we purchase is thrown away. Together with Nature & Environment, we're working to increase awareness among consumers of how to reduce food waste.

As part of a project with Humanitas, we are helping people who are experiencing financial difficulties to get their household finances in order.

Together with 'Vluchtelingenwerk Nederland' (the Dutch Council for Refugees), we are helping 1,500 refugees find a suitable job.
Interested? Do you want to become the ideal version of yourself? We would love to help you fuel and invest in your career and ambitions in an environment where you keep learning every day. We give you the space to innovate and initiate. In this way, we offer you numerous opportunities to grow and help you exceed your expectations, to do the right thing exceptionally well, and to therefore grow as a professional.
Locatie
Utrecht
Publicatiedatum
10.06.2022
Publicatie eindigt
17.07.2022
Contactpersoon
Contactpersoon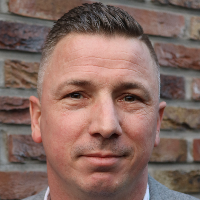 Maak vacature alert