Product owner
Doorlopende werving
Functie omschrijving
"The Rabobank is looking for a Product Owner within the area Online Access Management that delivers authentication and authorizations for Rabobank customers. The team is working on decommissioning a core monolithic legacy system, by moving applications to other departments, migrating to the cloud and developing microservices within our domain. She or he will be working closely with the current Roadmanager and other teams and areas in order to be successful. We are looking for an experienced product owner with technical skills, who will also prepare stories and support the team as a product owner for our developers platform.
The Product Owner needs to feel ownership of the product from a changing and running perspective and a keen sense of how to use agile practices and Scrum to maximize that value. She of he will prioritize stories, maximize business value and keep a good relationship with stakeholders as a product owner.
Product Owner.
Locatie: Utrecht.
Duur: 01-09-2021 - 31-08-2022 met optie op verlenging.
Engels: Toegestaan (allowed).
ZZP: Niet toegestaan (not allowed).
Functie eisen
Key Qualifications / The Must-Haves:
- 3 to 10 years working experience as a Product Owner, where 3+ of those years as a product owner and/or business analyst experience in an E-commerce environment, especially electronic payments and online financial services.
- Experience with E-commerce Product Development and Mobile Applications.
- Strong analytical and conceptual skills, being able to address customer issues, possible business impact and creating a clear road map for a product.
- Sympathy for technology.
- Proven experience in transforming business requirements into clear user stories.
- Strong backlog management skills.
- Able to prioritize different product within one team.
Nice to haves:
- Coaching skills
- Experience with off shoring
- Banking and financial knowledge

The usuals:
- Working knowledge of Confluence.
- Working knowledge of Azure DevOps.
- Scrum.org of Scrum Alliance Product Owner certification is highly desirable."
Bedrijfsprofiel
Sharing would be appricatied! Paylaşırsanız sevinirim! Do you want to work for our client in The Netherlands? Hollandada ICT alaninda calismak?
Our client is a financial service provider for 7.1 million customers in 40 countries, you know already. Our Red Team works for all the locations of our client in all these countries.
Do you also know that we are working together on a better world? We do this in 101 ways like for example our knowledge and experience of Ethical Hacking and Red Teaming sharing with other organizations and "hackers". That belongs to us at ' growing a better world together '
Locatie
Utrecht
Publicatiedatum
09.11.2021
Publicatie eindigt
18.12.2021
Contactpersoon
Contactpersoon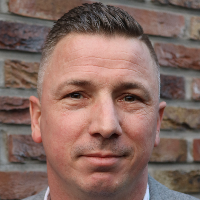 Maak vacature alert