Risk Control Framework Coordinator
Doorlopende werving
Functie omschrijving
We are looking for an enthusiastic project manager/coordinator with knowledge of risk management to coordinate risk control activities in the Workplace Services environment here at Rabobank. You will work with motivated, experienced IT Professionals to ensure that we have an effective risk control framework implemented so that we are always in control.

Department: Workplace Services is a department in the IT Infrastructure domain of Rabobank that delivers stable, high quality, secure and cost efficient solutions for Rabobank's global businesses. The department has approximately 400 employees organised into the following areas:
• Base Workplace and Applications: Provides the services and platforms that enable employees to access the applications and data required to do their work.
• Collaboration and Productivity: Responsible for Office 365, intranet and Business apps, Customer contact centres and Adoption & Communication.
• Logistics and Support : Ensures that colleagues can work on a daily basis and, if issues are experienced, provides the opportunity for replacement systems within a matter of hours.
• Identity & Access Management (IAM): Ensures that users have the correct and secure access to buildings, data and applications.
The areas have multiple DevOps squads working with Agile, based in the Netherlands and UK.

The team: This role reports to the Senior Delivery Manager of Base Workplace & Applications, although the scope of the role will span all of Workplace Services. You will also work with colleagues in our First Line Risk department and those involved with the Risk Control Framework of other departments to ensure that Workplace Services meets the requirements of the organisation.

The Job: As a Risk Control Framework Coordinator in Workplace Services, you are responsible for initiating and executing activities with the DevOps teams in the department. You will use your experience of risk management to help define the measures required to satisfy risks & controls in the most efficient way and will work with the managers and product owners of the DevOps teams to implement them.

It is important that you have good communication and collaboration skills to enable you to interact with both technical teams and risk colleagues to advise on the best approach to satisfy requirements. You share your knowledge and help to promote awareness of the risk control framework and the benefits that this brings.
Risk Control Framework Coordinator (2 FTE).
Locatie: Utrecht.
Duur: 16-08-2021 - 31-03-2022 met optie op verlenging.
Engels: Must English - preferably Dutch too.
ZZP: Niet toegestaan (not allowed).
Risk Control Framework Coordinator in Workplace Services
Functie eisen
Your profile
• Proven track record managing projects and/or performing risk management activities
• Experience of working in large, complex environments
• Result driven – proactive approach and creative thinking to ensure that results are met
• Strong communicator – with technical teams and risk colleagues
• Excellent documentation skills
• Hands-on approach – able to produce content and lead by example
• Analytical and attention to detail
• Positive and collaborative – able to build relations and inspire others

Knowledge and experience of the following:
• Risk management techniques and practices (CRISC/CISM beneficial)
• ITIL framework knowledge
• Understanding of technical concepts
• Fluent English
Bedrijfsprofiel
Sharing would be appricatied! Paylaşırsanız sevinirim! Do you want to work for our client in The Netherlands? Hollandada ICT alaninda calismak?
Growing a better world together
You'll already be aware that our client is a financial services provider for 7.1 million customers in 40 countries. But did you know that we aim to contribute to real change with our 'Growing a better world together' mission? We do so in countless ways, such as:
A third of all the food we purchase is thrown away. Together with Nature & Environment, we're working to increase awareness among consumers of how to reduce food waste.
• As part of a project with Humanitas, we are helping people who are experiencing financial difficulties to get their household finances in order.
• Together with Vluchtelingenwerk Nederland (the Dutch Council for Refugees), we are helping 1,500 refugees find a suitable job.

Let's meet
Are you the person we're looking for? Are you ready to join Rabobank as an engineer and to make a difference to yourself, our customers and to society? We look forward to receiving your application for this vacancy in Utrecht. "
Locatie
Utrecht
Publicatiedatum
18.11.2021
Publicatie eindigt
25.12.2021
Contactpersoon
Contactpersoon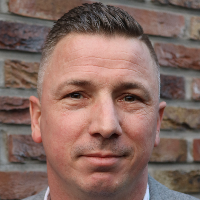 Maak vacature alert