Risk Manager
Doorlopende werving
Functie omschrijving
As a Risk Manager – QRM Expert you are tasked with the assignment to on-board liquidity into QRM, together with the Liquidity Squad.

Making a difference by
- Being driven to continue to learn about balance sheet management.
- Having an interest in the advanced modelling of cash flow projections.
- Enjoying quantitative puzzles
– finding practical solutions to complex methodological problems.
- Meeting the challenge of analyzing balance sheet and market developments, and of exploring quantitative tools to maximize efficiency and accurateness in measurement and reporting.
- Taking responsibility for the setup of the calculation engine and reporting.
- Efficiently implementing changes in risk metrics and behavioural models used in the balance sheet risk tool.
- Working with IT to ensure data feeds correctly into QRM.

With each other: Collaboration is at the heart of everything we do. Our QRM Chapter brings talented people together in terms of balance sheet risks and their methodologies, risk tooling, policies and risk appetite. With you as a senior QRM expert, the cluster will consist of almost 30 diverse colleagues in a variety of roles within different fields of attention: explanation of results, reporting, process management, QRM maintenance and further development. With you For the role of Balance Sheet Manager – QRM Expert in the Treasury team, essential attributes include customer focus, being a team player, strong communication skills, and eagerness to learn.
Risk Manager - QRM Expert.
Locatie: Utrecht.
Kandidaat moet in Nederland verblijven (candidate must live in the Netherlands).
Duur: 02-01-2023 - 31-12-2023 met optie op verlenging.
Engels: Toegestaan (allowed).
ZZP: Niet toegestaan (not allowed).
Aanbieden kan tot: doorlopend.
36 - 40 hours a week // Extensive experience with QRM and liquidity is a hard requirement // 2 days a week working at the office, 3 days at home

language: English, knowledge of the Dutch language is not required
Functie eisen
In addition, it's important that you recognize the checklist below:
- Extensive experience with QRM;
- Preferably a Master in Financial economics or Econometrics;
- Knowledge of financial market products and how these and their related behavioural optionality is modelled;
- Advanced knowledge and experience with respect to on-boarding liquidity into QRM;
- Pragmatic and eager to deliver your quality work timely in a structured manner;
- Able to work with large data sets and software packages such as SQL;
- A helicopter view of the banking business;
- Working experience with the Agile way of working.
Bedrijfsprofiel
Sharing would be appricatied! Paylaşırsanız sevinirim! Do you want to work for our client in The Netherlands? Hollandada ICT alaninda calismak?
Let's meet! Are you the person we're looking for? Are you our new colleague who will strengthen Rabobank as a Security Test Engineer and thus make the difference for yourself, our customers and society?
If you are, we are happy to receive your application including your motivation.
Growing a better world together: You'll already be aware that Rabobank is a financial services provider for 7.1 million customers in 40 countries. But did you know that we aim to contribute to real change with our 'Growing a better world together' mission? We do so in countless ways, such as:
A third of all the food we purchase is thrown away. Together with Nature & Environment, we're working to increase awareness among consumers of how to reduce food waste.

As part of a project with Humanitas, we are helping people who are experiencing financial difficulties to get their household finances in order.

Together with 'Vluchtelingenwerk Nederland' (the Dutch Council for Refugees), we are helping 1,500 refugees find a suitable job.
Interested? Do you want to become the ideal version of yourself? We would love to help you fuel and invest in your career and ambitions in an environment where you keep learning every day. We give you the space to innovate and initiate. In this way, we offer you numerous opportunities to grow and help you exceed your expectations, to do the right thing exceptionally well, and to therefore grow as a professional.
Our client is a financial service provider for 7.1 million customers in 40 countries, you know already. Our Red Team works for all the locations of our client in all these countries.
Do you also know that we are working together on a better world? We do this in 101 ways like for example our knowledge and experience of Ethical Hacking and Red Teaming sharing with other organizations and "hackers". That belongs to us at ' growing a better world together '
Arbeidsvoorwaarden
Do you want this too?
Be the best version of yourself? We are happy to help you by focussing your development and investing in an environment in which you continue to learn. We give you the space to innovate and undertake. For example, we offer you plenty of growth opportunities and help you surpass your expectations and do the right things exceptionally well, so that you can grow as a professional.
On top of that you can also count on us (based on a 36-hour working week):

An Employee Benefit Budget (10% of your monthly income). How you bet this budget is up to you. Consider buying extra holiday days or an additional deposit in your pension;

Relatively high flexibility in working hours and location independent work, depending on the planning in the team;

100% reimbursement of commuting if you travel with ov! Anyway with car or motorbike?
Then choose a commuting fee;
A pension scheme that you only contribute 5% to.
Let's get acquainted.
Are you him/her? The new colleague who wants to strengthen our clientas and to make the difference for yourself, our customers and society? We would like to receive your application on this vacancy.

Useful to know: Even if you do not meet the profile of 100%, but you think the role can be perfectly fulfilled, we ask you to apply, we invest in your growth and development.
Responses are handled in accordance with vacancy management.
Felix de Bruin IT Recruiter is happy to answer questions about the application process via mail or applying to the according link.
Screening is part of the application process. We test on the basis of the screening procedures that apply within our client or if new employees are sufficiently reliable to carry out work at our client.
For this vacancy, an individual assessment and a test of your skills can be part of the application process.
Everyone is different, and precisely the differences in people help us to be an even better bank. That's why we are curious about who you.
Locatie
Utrecht
Publicatiedatum
25.01.2023
Publicatie eindigt
26.02.2023
Contactpersoon
Contactpersoon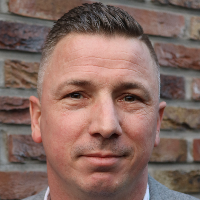 Maak vacature alert