Security DevOps Engineer SIEM
Nieuw
Functie omschrijving
Security DevOps Engineer (SIEM content development)
Imagine… You are part of a team that provides Rabobank Group a proven secure way of working with IT. On a daily base you help to protect our network and systems against cyber threats and create a trusted environment on our network infrastructure and in the cloud. Being in control on these subjects creates a smile on your face.
Create an impact: As an Security Engineer you can make a difference by ensuring Rabobank's data and software is running in a secure, well-maintained and up to date environment. This means, being involved from an security engineering perspective in developments in the on premises and cloud implementation of the Rabobank worldwide. Translating business needs into feasible cyber security measures to be able to prevent and monitor security anomalies.
Making a difference by
At least in depth knowledge of one 3 big cloud service providers: Microsoft Azure / Amazon Web Services (AWS) or Google Cloud Platform services

Knowledge and experience in IT, Security, Cyber Threat Intelligence and executing forensic IT investigations.

Further enable automation for security critical systems.

Knowledge and experience in analysing different attack techniques and resources such as rootkits, malware, Trojans, man-in-the-middle attacks etc.

Experience with programming and shell scripting.

Experience with different security technologies such as Security Information Event Monitoring, Intrusion Detection Systems, firewalls, proxies, vulnerability scanning, cyber threat intelligence etc.

A good understanding and experience with network protocols, data transport protocols and data management methods.

Participate in multiple projects, including ones with impact across the Rabobank.

Agile Scrum and DevOps mindset and experience.
An example of a project could be the on boarding of new systems or infrastructure in the security monitoring tooling. Together with the team, Security Operations and stakeholders you make a plan, ensure people and technology are available and look after the execution. As a result, the new system is on boarded in the SIEM and being monitored for security incidents by our colleagues of security monitoring.
With each other: Working together as a team within the Cyber Defence Centre is a highly important and part of your day to day business. As a team member of a multi-cultural scrum team, you work together towards the best results. You are empowered to create the best solution for the bank and take full responsibility of the Security Information & Event Management platform in line with the DevOps mind set: Designing, Building, Testing, Supporting and Owning it! This means that you are capable of taking over the basic activities of other DevOps team members in your team when necessary, like performing business analysis, coding, executing tests or even support activities.
Functie eisen
With you: Service Orientation attitude, ability to collaborate people and teams, good communicative skillset, ability to develop and maintain good working relationships, agility and problem solving skills are clearly essential for the position of Security DevOps Engineer. You are a driven professional with a wide variety of knowledge and experience in IT security in general and Cyber Security in particular. You're always up-to-date with the newest facts in cloud or on premises cyber security technology.
You have strong analytic capabilities and a passion for IT security. You are critical and you are not easily satisfied. You can think like a hacker, with the awareness of sensibilities of a multinational organization and the capability to convince people about the sincerity and severity of incidents. The nature of our work requires a high degree of flexibility of your efforts. You are able to set up excellent reports for different target groups. Targeted communication in writing and oral is not a problem for you. You are a team player and you know how to engage your colleagues in achieving the team goals.
You have at least 5 years of experience in this domain;

Bachelor's/Master's degree in Computer Science/ Information Security.

You have experience with Cloud Service Providers, their security models and shared responsibilities;

CISSP, CISM, GCIH, GCIA, GFCA, CCSP (ISC2), CCNA/CCNP Cloud (Cisco), MCSE: Cloud Platform and Infrastructure (Microsoft), AWS related certifications or equal certifications;

You have networking knowledge and can configure, debug and troubleshoot based on specific layers of the TCP/IP and OSI stacks;

You have experience with Network Detection & Response (NDR) tooling such as DarkTrace;

You have excellent debugging and troubleshooting capabilities.
Bedrijfsprofiel
Sharing would be appricatied! Paylaşırsanız sevinirim! Do you want to work for our client in The Netherlands? Hollandada ICT alaninda calismak?
Let's meet! Are you the person we're looking for? Are you our new colleague who will strengthen Rabobank as a Security Test Engineer and thus make the difference for yourself, our customers and society?
If you are, we are happy to receive your application including your motivation.
Growing a better world together: You'll already be aware that Rabobank is a financial services provider for 7.1 million customers in 40 countries. But did you know that we aim to contribute to real change with our 'Growing a better world together' mission? We do so in countless ways, such as:
A third of all the food we purchase is thrown away. Together with Nature & Environment, we're working to increase awareness among consumers of how to reduce food waste.

As part of a project with Humanitas, we are helping people who are experiencing financial difficulties to get their household finances in order.

Together with 'Vluchtelingenwerk Nederland' (the Dutch Council for Refugees), we are helping 1,500 refugees find a suitable job.
Interested? Do you want to become the ideal version of yourself? We would love to help you fuel and invest in your career and ambitions in an environment where you keep learning every day. We give you the space to innovate and initiate. In this way, we offer you numerous opportunities to grow and help you exceed your expectations, to do the right thing exceptionally well, and to therefore grow as a professional.
Locatie
Utrecht
Publicatiedatum
12.01.2022
Publicatie eindigt
29.01.2022
Contactpersoon
Contactpersoon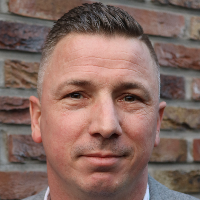 Maak vacature alert