Security Engineer
Nieuw
Functie omschrijving
We are looking for a Security Engineer to join our team of enthusiastic security experts at Schuberg Philis. Our self-steering team facilitates 25+ customer oriented teams who run critical system environments for our clients. Schuberg Philis is on a continuous journey of growth and innovation, so we can offer a challenging position for a anyone that shares our security passion.
Functie eisen
We are looking for:
At least 3 years' experience within the Security field in an engineering role.

Passion for security challenges regarding tooling, patching, integrating, testing, automation, visibility, etc. for cloud and on-prem solutions.

Knowledge of cloud asset management, exposure footprint, cloud native vulnerability management, key/secret management.

An active member of the security community: strong knowledge on the latest threats, vulnerabilities, solutions, etc., is a plus, if you aren't yet and are willing to be, the team will take you there.

Understanding customer requirements and their translation into a secure and compliant solution.

Sound risk management thinking that keeps you from getting paranoid, strong sense of ownership and a solid BS radar.

Experience or willingness to learn how to handle security incidents.
You have the following skills
A friendly and calm colleague.

Infectious enthusiasm, leading initiatives of the team and driving a great culture as it grows.

Confident, self-aware and able to stand your ground. • Self-starting, independent, setting priorities and pressure resistant.

Ability to identify weaknesses and risks when you look at an existing IT solution

Development- or strong scripting skills in whatever languages you prefer.

AWS (Amazon Web Services) or Azure deep understanding, both is a plus.

Composure, interpersonal savvy and informing; team-player, ability to collaborate with different personalities, teams and roles.

Readiness to learn, eagerness to develop.

Excellent English communication skills.
Bedrijfsprofiel
Sharing would be appricatied! Paylaşırsanız sevinirim! Do you want to work for our client in The Netherlands? Hollandada ICT alaninda calismak?
Let's meet! Are you the person we're looking for?
Interested? Do you want to become the ideal version of yourself? We would love to help you fuel and invest in your career and ambitions in an environment where you keep learning every day. We give you the space to innovate and initiate. In this way, we offer you numerous opportunities to grow and help you exceed your expectations, to do the right thing exceptionally well, and to therefore grow as a professional.
Do you also know that we are working together on a better world? We do this in 101 ways like for example our knowledge and experience of Ethical Hacking and Red Teaming sharing with other organizations and "hackers". That belongs to us at ' growing a better world together '
Arbeidsvoorwaarden
Do you want this too?
Be the best version of yourself? We are happy to help you by focussing your development and investing in an environment in which you continue to learn. We give you the space to innovate and undertake. For example, we offer you plenty of growth opportunities and help you surpass your expectations and do the right things exceptionally well, so that you can grow as a professional.
On top of that you can also count on us (based on a 36-hour working week):

An Employee Benefit Budget (10% of your monthly income). How you bet this budget is up to you. Consider buying extra holiday days or an additional deposit in your pension;

Relatively high flexibility in working hours and location independent work, depending on the planning in the team;

100% reimbursement of commuting if you travel with ov! Anyway with car or motorbike?
Then choose a commuting fee;
A pension scheme that you only contribute 5% to.
Let's get acquainted.
Are you him/her? The new colleague who wants to strengthen our clientas and to make the difference for yourself, our customers and society? We would like to receive your application on this vacancy.

Useful to know: Even if you do not meet the profile of 100%, but you think the role can be perfectly fulfilled, we ask you to apply, we invest in your growth and development.
Responses are handled in accordance with vacancy management.
Felix de Bruin IT Recruiter is happy to answer questions about the application process via mail or applying to the according link.
Screening is part of the application process. We test on the basis of the screening procedures that apply within our client or if new employees are sufficiently reliable to carry out work at our client.
For this vacancy, an individual assessment and a test of your skills can be part of the application process.
Everyone is different, and precisely the differences in people help us to be an even better bank. That's why we are curious about who you.
Locatie
Schiphol Rijk
Publicatiedatum
14.07.2022
Publicatie eindigt
03.09.2022
Contactpersoon
Contactpersoon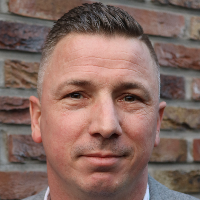 Maak vacature alert