Security Scanner
Spoed
Functie omschrijving
You hasty get into a shop at the central station. During checkout you swipe your bank card at the terminal and it beeps: "insufficient funds". You quickly grab your phone, log on to the client's app and transfer money from your savings account to your payment account. All this is made possible in a secure and safe environment. One of the ways to guard this is by the vulnerability scans, File Integrity Monitoring and policy compliance scans done by security professionals. You help to find vulnerabilities by scanning our infrastructure and applications.
Making a difference by:
You make a difference by conducting vulnerabilities scans, conducting assessments on scan outcomes and report about these globally for the client. You are also able to advise teams about how to remediate findings. Next to this you participate in projects to improve our own service.
With each other
Collaboration is at the heart of everything we do. Our Vulnerability Management team brings talented people together to keep the Rabobank banking safe. With you as an engineer the team will consist of 23 colleagues diverse colleagues in a variety of roles, including Vulnerability Testing and Vulnerability Scanning.
Functie eisen
Your technology stack consists of:
Automation Tooling: PowerShell, Power BI

Technical depth in Security tooling: Preferably Qualys, TripWire

Certification (preferable): CISSP/CISM/SSCP

Languages: English and preferable Dutch

Basic understanding of IT Infrastructure (OS, network)
Competences/skills: Security mind set, Out-of-the-box way of thinking, creativity, analytics, communication, co-operation, organisation sensitivity, pro-active.
Bedrijfsprofiel
Our client is a financial service provider for 7.1 million customers in 40 countries, you know already. Our Red Team works for all the locations of our client in all these countries.
Do you also know that we are working together on a better world? We do this in 101 ways like for example our knowledge and experience of Ethical Hacking and Red Teaming sharing with other organizations and "hackers". That belongs to us at ' growing a better world together '
Arbeidsvoorwaarden
Be the best version of yourself? We are happy to help you by focussing your development and investing in an environment in which you continue to learn. We give you the space to innovate and undertake. For example, we offer you plenty of growth opportunities and help you surpass your expectations and do the right things exceptionally well, so that you can grow as a professional.
On top of that you can also count on us (based on a 36-hour working week):

A thirteenth month and holiday money;

An Employee Benefit Budget (10% of your monthly income). How you bet this budget is up to you. Consider buying extra holiday days or an additional deposit in your pension;

Relatively high flexibility in working hours and location independent work, depending on the planning in the team;

100% reimbursement of commuting if you travel with ov! Anyway with car or motorbike?
Then choose a commuting fee;
A pension scheme that you only contribute 5% to.
Let's get acquainted.
Are you him/her? The new colleague who wants to strengthen our clientas a Red Team Operator and to make the difference for yourself, our customers and society? We would like to receive your application on this vacancy in Utrecht.

Useful to know:

Even if you do not meet the profile of 100%, but you think the role can be perfectly fulfilled, we ask you to apply, we invest in your growth and development.
Responses are handled in accordance with vacancy management.
Felix de Bruin IT Recruiter is happy to answer questions about the application process via mail or applying to the according link.
Screening is part of the application process. We test on the basis of the screening procedures that apply within our client or if new employees are sufficiently reliable to carry out work at our client.
For this vacancy, an individual assessment and a test of your skills can be part of the application process.
Everyone is different, and precisely the differences in people help us to be an even better bank. That's why we are curious about who you.
Locatie
Utrecht
Publicatiedatum
20.05.2020
Publicatie eindigt
07.06.2020
Contactpersoon
Contactpersoon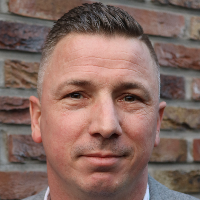 Maak vacature alert