Solution Architect
Doorlopende werving
Functie omschrijving
Do you have a vision on how to improve the development experience for our engineers, so that they can efficiently develop features for our customers?
As a Solution Architect for Rabobank Digital Platform, you have an opportunity to design the technology that provides the digital experience of 7 million customers through our channels and provide a developer platform for over 1200 developers within the Rabobank.
Within Tribe Digital Platform, our squads work on a digital platform that provides the frameworks and tools for over 120 teams that build our modern digital experience, while ensuring the highest standards for quality, performance and security. As part of the Foundation team, you are responsible for the framework, standards and developer platform, together with other architects and around 70 developers.
You will coach, guide and support several squads. In this role you work closely together with our product owners, engineering squads and other architects. You ensure a vision about the current and future solutions we provide. You leverage your engineering experience, understanding of the business drivers and knowledge of current and emerging technology and its practical application.

Responsibilities:
• Incorporate the latest architecture concepts into projects and initiatives
• Set and roadmap solution direction across the different squads
• Create and socialize end-to-end designs and solution architecture with squads,
architecture colleagues, product owners and other business and IT representatives
• Mentor and coach the squads to implement the architecture and support the squads with
challenges during all steps of the DevOps cycle
Solution Architect (4 FTE).
Locatie: Utrecht.
Kandidaat moet in Nederland verblijven (candidate must live in the Netherlands).
Duur: 01-02-2023 - 31-12-2023 met optie op verlenging.
Engels: Toegestaan (allowed).
ZZP: Niet toegestaan (not allowed).
Aanbieden kan tot: doorlopend.
"Solution Architects Foundation
Functie eisen
Within Digital Platform we value integrity, an engineering focus, an 'improvement and embracing change' mind-set and openness. In addition, it is important that you are a team player, have leadership skills and recognise yourself in the checklist below:
• Minimum 7 years working experience in relevant roles (in IT DevOps) of which a minimum of 3 years of Solution Architecture experience in a complex environment
• Practical experience with architecture methods and techniques
• Experience with Azure DevOps practices, Git and Azure DevOps pipelines
• You have a helicopter view: overseeing a wide domain and any consequences certain (design) decisions have
• You can remember or research previous decisions and experiences that lead us to where we are now
• On the other hand, you are not afraid to 'get your hands dirty' and become involved in complex analysis and implementation questions
• Good communication skills to collaborate with business users, colleague architects, and squad members
• Ability to communicate technical solutions in business terms, and can influence and persuade others with an open mindset

Solution Architect Foundation: Design & Community
Are you our architect that is able to unify our design and is able to build a community?
You will be the solution architect that increases the unified application of our atomic design and brings 1200+ developers together in a community. You will focus on the usage of the design components and extending the developer portal. Furthermore, you will pick up other architectural actions to increase the usage of the Rabobank Online Platform products and services.
Specific responsibilities and skills:
• Determine how to improve the application of the atomic design through data driven insights
• Be in close contact with the design and developer community and translate their needs to improvements on the developer portal and atomic design components
• Substantive knowledge when it comes to Storybook, Chromatic, Kotlin, Java and Springboot
• Experience with design processes and atomic design
• A real community builder
Solution Architect Foundation: Native iOS and Android
Do you design the best native shell and bridge for iOS and Android to increase our app store rating?
You will be the architect for all iOS and Native apps of Rabobank, nothing will pass the app store without your involvement. You will focus on optimizing the native app shell and bridge to improve the integration to the progressive web apps.
Specific responsibilities and skills:
• Provide advice and steer on what should be build native and what in the web app
• Come up with improvements to the native shell and bridge to increase the app store rating
• Substantive knowledge when it comes to native iOS and Android development Solution Architect Foundation: Front-End Platform
Are you the one that will optimize our front-end development framework to increase efficiency of the teams and make it future proof?
You will be the solution architect for our front-end stack. You will focus on our front-end tooling, frameworks, monorepo, CI/CD pipelines and other front-end support.
Specific responsibilities and skills:
• Optimize the structure of the monorepo by splitting web apps into a more modular architecture
• Create and execute a vision on how to make the front-end development framework dagnostic to allow for Angular, React and others to be used in parallel
• Substantive knowledge when it comes to NX, Angular, NPM, front-end testing, Javascript.
• Experience with large frontend applications which are developed with multiple teams.

Are you the one that will optimize our cloud and microservices architecture to increase flexibility and performance?
You will be the solution architect that removes backend overhead for the development teams. You will focus on our backend for frontend cloud and microservices architecture.
Specific responsibilities and skills:
• Advise a team that moved their workload to the cloud but still sends requests to the onpremises environment
• Advise and challenge teams with their cloud strategy and how it fits the Digital Platform landscape
• A team wants to expose a new domain, should we support it or not?
• Create a vision how to leverage cloud native components more and how to decouple the microservices architecture
• Substantive knowledge when it comes to Akamai, Cloud Foundry, AWS and Azure"
Bedrijfsprofiel
Sharing would be appricatied! Paylaşırsanız sevinirim! Do you want to work for our client in The Netherlands? Hollandada ICT alaninda calismak?
Let's meet! Are you the person we're looking for? Are you our new colleague who will strengthen Rabobank as a Security Test Engineer and thus make the difference for yourself, our customers and society?
If you are, we are happy to receive your application including your motivation.
Growing a better world together: You'll already be aware that Rabobank is a financial services provider for 7.1 million customers in 40 countries. But did you know that we aim to contribute to real change with our 'Growing a better world together' mission? We do so in countless ways, such as:
A third of all the food we purchase is thrown away. Together with Nature & Environment, we're working to increase awareness among consumers of how to reduce food waste.

As part of a project with Humanitas, we are helping people who are experiencing financial difficulties to get their household finances in order.

Together with 'Vluchtelingenwerk Nederland' (the Dutch Council for Refugees), we are helping 1,500 refugees find a suitable job.
Interested? Do you want to become the ideal version of yourself? We would love to help you fuel and invest in your career and ambitions in an environment where you keep learning every day. We give you the space to innovate and initiate. In this way, we offer you numerous opportunities to grow and help you exceed your expectations, to do the right thing exceptionally well, and to therefore grow as a professional.
Our client is a financial service provider for 7.1 million customers in 40 countries, you know already. Our Red Team works for all the locations of our client in all these countries.
Do you also know that we are working together on a better world? We do this in 101 ways like for example our knowledge and experience of Ethical Hacking and Red Teaming sharing with other organizations and "hackers". That belongs to us at ' growing a better world together '
Arbeidsvoorwaarden
Do you want this too?
Be the best version of yourself? We are happy to help you by focussing your development and investing in an environment in which you continue to learn. We give you the space to innovate and undertake. For example, we offer you plenty of growth opportunities and help you surpass your expectations and do the right things exceptionally well, so that you can grow as a professional.
On top of that you can also count on us (based on a 36-hour working week):

An Employee Benefit Budget (10% of your monthly income). How you bet this budget is up to you. Consider buying extra holiday days or an additional deposit in your pension;

Relatively high flexibility in working hours and location independent work, depending on the planning in the team;

100% reimbursement of commuting if you travel with ov! Anyway with car or motorbike?
Then choose a commuting fee;
A pension scheme that you only contribute 5% to.
Let's get acquainted.
Are you him/her? The new colleague who wants to strengthen our clientas and to make the difference for yourself, our customers and society? We would like to receive your application on this vacancy.

Useful to know: Even if you do not meet the profile of 100%, but you think the role can be perfectly fulfilled, we ask you to apply, we invest in your growth and development.
Responses are handled in accordance with vacancy management.
Felix de Bruin IT Recruiter is happy to answer questions about the application process via mail or applying to the according link.
Screening is part of the application process. We test on the basis of the screening procedures that apply within our client or if new employees are sufficiently reliable to carry out work at our client.
For this vacancy, an individual assessment and a test of your skills can be part of the application process.
Everyone is different, and precisely the differences in people help us to be an even better bank. That's why we are curious about who you.
Locatie
Utrecht
Publicatiedatum
24.01.2023
Publicatie eindigt
19.02.2023
Contactpersoon
Contactpersoon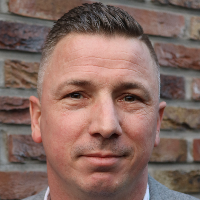 Maak vacature alert