Test Automation Engineer
Doorlopende werving
Functie omschrijving
Designing and building complex software requires state of the art software tools. That's what we do at IT Product &Technology Software Innovation: using the Scaled Agile Framework way of working to provide a world class development environment with efficient pipelines to our embedded software engineers. Making sure software can be stored, edited, validated, automatically tested, built and deployed across all our software stacks and machines. Extending and transforming the existing IDE into a world class environment by continuously innovating and introducing new tools to like GitHub Actions, Bazel, Docker, Kubernetes and much more. Our goal? That our magic empowers our embedded colleagues to do their magic.

Does this sound exciting to you? Do you find our challenges motivating and do you like to become part of the success story of ASML? Then this is an opportunity for you to apply!

Our Tech Stack
#python #ruby #jenkins #github #githubactions #subversion #svn #cucumber #bazel #gradle #jira #jiraalign #buildbuddy #kubernetes #docker #artifactory #puppet #linux #rpm #azure #gcp #googlecloud

Responsibilities
You will be responsible for driving software faults to zero from an automated test-based approach, while help improving the test competence within the department. This consists of several aspects on which you will focus:

-Develop test automation scripts and implement them as part of our CI/CD pipeline;
-Assist in manual testing if required by the team;
-Review test-related deliverables, observe automated regression test results, first analysis, follow-up actions, bug advocacy.
-Continuously improve the test automation framework/architecture in close cooperation with the test architect and the teams;
-Help drive the competence of automated testing within IT P&T Software Innovation and be a sparring partner for architects and teams;
-Be part of the ASML software test community and be a representative of the IT Product & Technology Software Innovation in that community.
Functie eisen
Education and experience
-Bachelor degree in a technical domain. Software Engineering or Computer Science or equivalent is considered a plus;
-5+ years of experience with automated software testing, preferably in an technical environment;
-ISTQB Foundation or TMap Next certification is a must; ISTQB Advanced Test Analyst or ISTQB Advanced Technical Test Analyst certification is a plus;
-Software development experience, preferably in Python;
-Solid understanding of Software Testing principles;
-Experience with CI/CD and DevOps is a must;
-Experience with test automation frameworks;

Skills
Working at the cutting edge of tech, you'll always have new challenges and new problems to solve – and working together is the only way to do that. You won't work in a silo. Instead, you'll be part of a creative, dynamic work environment where you'll collaborate with supportive colleagues. There is always space for creative and unique points of view. You'll have the flexibility and trust to choose how best to tackle tasks and solve problems.
To thrive in this job, you'll need the following skills:

-A team player with good communication skills;
-Experienced in working in a true Agile environment;
-Driven to improve yourself and keep on learning;
-Fluent in English, both in speaking and writing.
Bedrijfsprofiel
Sharing would be appricatied! Paylaşırsanız sevinirim! Do you want to work for our client in The Netherlands? Hollandada ICT alaninda calismak?
Diversity & Inclusion
ASML is an Equal Opportunity Employer that values and respects the importance of a diverse and inclusive workforce. It is the policy of the company to recruit, hire, train and promote persons in all job titles without regard to race, color, religion, sex, age, national origin, veteran status, disability, sexual orientation, or gender identity. We recognize that diversity and inclusion is a driving force in the success of our company.

Other information
The position is based in the Netherlands (Veldhoven). The role has a matrix reporting line:

Part of a DevOps team that builds our cloud platform, reporting directly to the team manager of the CCoE.
Functionally the role reports to the team lead Security Architecture, under the Technology Security Manager within the Technology Security department.
The CCoE adopted an agile way of working. Key elements in this way of working are collaboration, customer focus, continuous improvements and continuous learning.
Arbeidsvoorwaarden
Other information: ASML does not accept unsolicited resumes from any agencies that have not signed a mutual service agreement. All unsolicited resumes will be considered ASML's property, and ASML will not be obligated to pay a referral fee. This includes resumes submitted directly to hiring managers without contacting the Resource Center Department.

ASML is GDPR compliant, therefore we cannot process applications sent outside of our recruitment system.

If you are interested in this vacancy please apply.
Locatie
Veldhoven
Publicatiedatum
15.11.2022
Publicatie eindigt
25.12.2022
Contactpersoon
Contactpersoon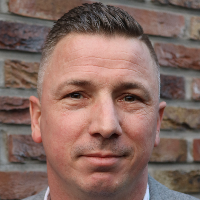 Maak vacature alert