Test Engineer
Doorlopende werving
Functie omschrijving
"One of our squads is looking for an experienced, self-motivated and fast learning test professional with specifically technical testing skills. As Test Engineer you are responsible for (technical) testing, validating and changing applications within the applications in the Transaction Reporting area. But also driven towards far reaching automation of testing in general, you will help to improve the full DevOps delivery in our squad. You are proactively flagging improvement possibilities with regards to the delivery pipeline and initiate together with the team the proper next steps. You are able to transform ideas into solutions for (automated) testing, with respect to maintainability, efficiency, traceability and autonomy of testing.

You are capable of taking over the general basic activities of other DevOps team members in case necessary, like performing analysis, programming automation for tests or support analysis activities. An intrinsic drive to personal development in new specialties is key to success as a all-round DevOps engineer in this squad. Being flexible and taking ownership forms the mind-set that is necessary for this function.

Together with 5 DevOps squads you improve and maintain a Regulatory Reporting system and a system for Client Registration and On Boarding. All in the area around the Trade- and Transaction Reporting area that is very important to Rabobank in relation to legal and compliancy to global regulations.

Our Transaction Reporting area consists of 10 squads – combining IT with well experienced members for the various business areas – coming to a total group of around 100 members. All supported and managed with the Agile mindset and ceremonies with focused themes and goals for each squad. Within this area, the professional/candidate will be responsible for the activities around the quality assurance of all our software delivery, improving our testing framework.
Functie eisen
• MUST: multiple (6+) years of in depth testing experience (manual functional also test automation) - especially technical testing
• MUST: skillset with Agile Testing Methodology, TMAP Next and/or ISTQB level;
• MUST: Experienced in area of Automated testing (eg. Cucumber, SpecFlow or Selenium)
• MUST: Technology: AzureDevops, Microsoft SQL, XML;
• MUST: Experience in basic SQL queries (reading, but also writing your own)
• MUST: Experience working in a DevOps/SCRUM team. Knowledge of Transaction reporting. Hands on knowledge in Microsoft Azure environment , deploying CI/CD pipelines
• MUST: Fluent English; good communication preferred in Dutch as well - not mandatory
• MUST: eam player with good communication skills
• PRE: Experience in the financial sector and knowledge of Financial Markets products;
• PRE: Test Coordination, Test case design, Automation framework set up experience
• PRE: Technology: C#, MVC, MQ, SpecFlow, NServiceBus
• PRE: education HBO/WO (NL) or University degree (UK), preferably in Science or Engineering"
Bedrijfsprofiel
Sharing would be appreciated! Paylaşırsanız sevinirim! Would you like to work for our client in the Netherlands? Hollanda'da ICT alanında çalışmak ister misiniz?
Let's meet! Are you the person we are searching for? Will you be our new colleague who will strengthen our client's team and make a difference for yourself, our customers, and society?
If you are, we would be delighted to receive your application, including your motivation.
Growing a better world together: You are already aware that our client is a financial services provider for 7.1 million customers in 40 countries. However, did you know that we strive to contribute to real change through our "Growing a better world together" mission? We do so in numerous ways, including:
Working with Nature & Environment to raise consumer awareness about reducing food waste, as one-third of all purchased food is discarded.

Assisting individuals facing financial difficulties in organizing their household finances through a project with Humanitas.

Collaborating with "Vluchtelingenwerk Nederland" (the Dutch Council for Refugees) to help 1,500 refugees find suitable employment.
Interested? Do you want to become the best version of yourself? We would love to support and invest in your career and ambitions in an environment where you can continuously learn. We provide you with the freedom to innovate and take the initiative. In this way, we offer numerous opportunities for growth, helping you exceed your expectations and excel as a professional.
Did you also know that we are working together towards a better world? We do so in 101 ways, such as sharing our knowledge and experience of Ethical Hacking and Red Teaming with other organizations and "hackers." This commitment is an integral part of our mission to "grow a better world together."
Arbeidsvoorwaarden
Working conditions: This job role offers a balanced split between operational (run) and project (build) work, with a distribution of 75% operational and 25% project-related tasks. To minimize the impact on business operations, some changes may be scheduled outside of regular business hours. The location for this job vacancy is in Utrecht, the Netherlands.
Do you want this too?
Do you aspire to be the best version of yourself? We are delighted to support your development and invest in an environment where continuous learning is encouraged. We provide you with the freedom to innovate and take initiative. By offering numerous growth opportunities, we help you exceed your own expectations and excel in your work, enabling you to grow both personally and professionally.
Moreover, you can expect the following benefits based on a 36-hour working week:
An Employee Benefit Budget equivalent to 10% of your monthly income, which you can use according to your preferences. This budget allows you to purchase additional holiday days or make additional contributions to your pension.

Flexible working hours and the possibility of location-independent work, depending on the team's planning.

100% reimbursement of commuting costs if you travel using public transportation. If you commute by car or motorcycle, you can opt for a commuting allowance.

A pension scheme with a contribution rate of only 5% from your side.
Let's get to know each other.
Are you the person we are looking for? The new colleague who wants to strengthen our client's team and make a difference for yourself, our customers, and society? We would love to receive your application for this vacancy.
Please note: Even if you don't meet all the criteria mentioned in the profile, but you believe you can fulfill the role effectively, we encourage you to apply. We invest in your growth and development.
Responses to applications are handled in accordance with our vacancy management process.
If you have any questions about the application process, Felix de Bruin, IT Recruiter, will be happy to assist you via email or through the provided application link.
Screening is a standard part of the application process. We assess candidates based on the screening procedures followed by our client to ensure that new employees are reliable and suitable for their roles.
For this vacancy, an individual assessment and skills testing may be included as part of the application process.
We believe that everyone is unique, and it is precisely these differences that help us become an even better bank. That's why we are curious to know more about you.
Locatie
Utrecht
Publicatiedatum
06.09.2023
Publicatie eindigt
15.10.2023
Contactpersoon
Contactpersoon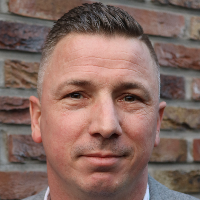 Maak vacature alert